From Fiji Times Online (16 March 2012)
Mental health champ

by Solomoni Biumaiono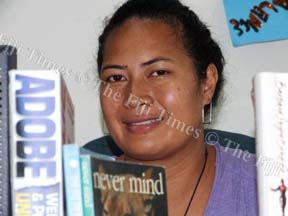 Rosie Catherine....youth mental health champ

Picture: Solomoni Biumaiono
I was sitting with Rosie Catherine in her office preparing for our interview when one of her charges burst into the office with some degree of urgency.
The youth launched straight into his verbal barrage, asking her to give him some document of his so he could go and look for a job. Slowly she set about to calm the youth's and in the process offered him a job in an artwork instalment project, that I later was told, the youth was already aware of. Rosie then told me that the youth is schizophrenic.
In her line of work, Rosie deals with people suffering from mental illness every single day of her working life. And this is after giving up a potentially bright career as a program writer in information technology.
"It was just about you making money for the company. I felt there was no value placed on human resources. I wanted to work in a place where people are valued," Rosie says.
Rosie attained a diploma in applied computing from the Fiji Institute of Technology in 2002 and worked as a junior programmer with a local computer firm in 2003.
The Juju girl from Rotuma only changed her line of work after she enrolled herself in the Emerging Leaders Forum set up by the Fiji Women Rights Movement.
From thereon, she never looked back as she became actively involved in social work, first through the Raleigh International Expedition in 2004 before becoming involved with the Pacific Youth Festival in 2006 and numerous other trainings in areas like women's rights and social work.
In 2008, she became involved with the Youth Champs for Mental Health where she was able to work for a cause that is close to her heart more than anything else.
"I was exposed to people living with mental health for some time and from that, I am able to relate to it and also be able to work with people living with mental illness.
"It's not easy but for me, and I can easily support the cause because of my previous experience in living with people who have mental illness," Rosie says.
Rosie and other like-minded youths have embarked on a cause that they still feel ù even in Fiji today, where the communities in Fiji are still finding it hard to address or embrace its realities.
"For example, when you call somebody's phone, he or she would jokingly answer, 'Hello, Saint Giles Hospital.' Or the labels, where you call someone lialia or pakla or mad.
It's these kinds of comments and association that create the stigma and the lack of acceptance for people suffering from mental illnesses," Rosie says.
She adds that to that extent, families and relatives of the person suffering from mental illnesses push them away.
"And some people become more ill because they do not share their problems with their families because they know, they will be pushed or shunned if they share their problems. Its these kind of attitudes that we are trying to combat," Rosie says.
Through the Youth Champs for Mental Health, Rosie and her team are trying to set up support groups as well as a lobby group to create more awareness and funding allocation for mental illness and health advocacy.
"Most of the mental illness people we have nowadays wouldn't have suffered more than they did, had there been a support group available to them while the illness was just starting to take effect," Rosie says.
And this is something that she is trying her best to work for, which is to gather enough public and medical support to set up a support structure that will be available to people who suffer from stress.
As to whether she has regrets about her career choice, Rosie simply replied, "My IT skills are still very much relevant for building skills and development in our communities".
---