From Fijitimes Online (1 July 2006)
Rupeni's got a heart of gold
by Fred Elbourne
REMEMBER the adage "You can't judge a book by its cover"? Well, it certainly rings true for senior Social Welfare officer Rupeni Fatiaki.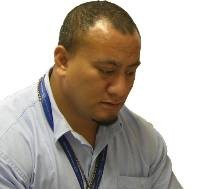 Rupeni Fatiaki ... works on case files in the office when not out doing field reports

Rups, as he is called by workmates and recipients of State financial assistance and Poverty Alleviation Program funds, hails from the village of Oinafa, on Rotuma.

Rupeni Fatiaki ... works on case files in the office when not out doing field reports

A prison officer for 12 years, Rupeni joined the Department of Social Welfare in 2001, after attaining his Degree in Applied Psychology.

This strongman who represented Fiji at the last South Pacific Games in Suva in powerlifting has changed the lives of many maginalised people since joining the department.

People who pass him on the streets are more likely to give him right of way, because of his size, but once one gets to know him, one realises he is a gentle giant, with a kind heart.

On why he changed professions, Rupeni says his parents taught him that education is a must for someone to prosper in life.

"I am thankful to my parents for instilling in me the value of education while growing up on Rotuma. They made sure my brother and I worked hard at school," he said. "It was their urging that has enabled me to form good work ethics and because of that I find that I can really help people."

Rupeni said helping others was a gift from God and he would always do his best to serve the poor of Fiji.

Not everyone is cut out to be a social welfare officer because the nature of the job can be quite demanding, physically and mentally.

But Rupeni has found the right balance by ensuring he goes to the gymnasium at least four times a week.

"The nature of the job can be hard some times ... the long hours spent walking to villages and settlements, crossing rivers and streams are tough, but being fit helps.

"Sometimes when we go into the field, we can cross a river more than 30 times and the weather is either very dry or very wet."

While hiking into the interior or wading rivers is hard work, Rupeni says there are lots of times when something funny happens and that is what keeps him going.

"I remember once, another welfare officer and I went up the Naitasiri highlands to attend a tikina meeting, it was raining quite hard and we were forced to walk in knee-high mud.

"After the meeting, the villagers got horses for us to ride back to our vehicle. The other welfare officer with me just couldn't stay on the horse. The villagers would help him up, but he would simply fall off the other side.

"It was really funny to see this officer falling off a stationary horse. We eventually had to walk back to our vehicle. Whenever I see that particular officer, I always think about that day," Rupeni said.

On what he found difficult being a welfare officer, Rupeni said the hardest thing to stomach was dealing with children who had been abused or neglected.

"While I may seem to be physically strong, nothing can prepare the heart for seeing the innocence of a child damaged through neglect or abuse. I have two children of my own and sometimes it becomes incomprehensible what some parents and adults inflict on children."

The Ministry for Women, Social Welfare and Housing is mandated by the Juveniles Act for the custody and for the protection of children in need of care, protection correction of juvenile delinquents and young offenders. Social welfare officers work with the courts, the police, religious organisations and NGOs. Their role is to ensure a child's rights and safety is assured and protected at all times.

Working with abused or neglected children leaves a lingering effect on social welfare officers and that is why the ministry has its own internal mechanism in place to cope with such situations.

Rupeni said the satisfaction he and other welfare officers got when they were able to help the poor, marginalised and the downtrodden was the best reward they could hope for.

"We are all human beings and sometimes the nature of the work we do gets to us, but when you see the programs that we implement change people's lives for the better, that is our reward.

"Sometimes the positive impacts we have on families and communities have long lasting and reoccurring effects.

"There is a particular case that I am real proud of, a family of nine who were evicted off their cane farm and had thought all was lost.

"As case officer, I managed to get them on our Poverty Alleviation Program and to assist the eldest daughter to obtain a multi-ethnic ministry scholarship.

"Today the family is living in their house funded by the ministry, the younger children are attending school, the second eldest is working and the eldest is attending a tertiary institution and will be graduating this year.

"What we have done is not only give them a house, but we have given them back their life.

"Welfare work is not only about giving handouts, but getting individuals and families to re-enter the community as productive members and to rebuild their self-esteem.

"It is about empowering families, especially children and women at risk, and about advancing gender equality and strengthening communities to reduce poverty," Rupeni said.

Social welfare officers like Rupeni are kept busy going all over the country, completing case studies to meet a July 1 deadline, when all recipients of the Family Assistance Program who are receiving less than $60 a month, move up to $60 a month.

This was after Cabinet approved a paper presented by Women, Social Welfare and Housing Minister George Shiu Raj.

Rupeni has the added responsibility as acting assistant director of income support to ensure the transition and electronic update of the increase is completed successfully before the deadline.

More than 17,000 recipients will benefit from the increase. It will be funded under the existing Poverty Alleviation Budget.
---