From Fiji Times Online (21 May 2012)
Rupeti Vafo'ou

by Geraldine Panapasa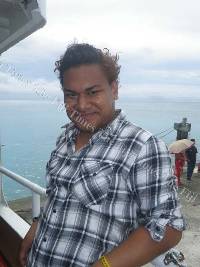 Rupeti Vaf''ou says maintaining a healthy and green environment is paramount for a sustainable future for the younger generation
Picture: Geraldine Panapasa
ON an island paradise with huge potential for development, Rupeti Vafo'ou often finds himself in a dilemma when trying to advocate for an environmentally-friendly community in Rotuma.
The volunteer with LajeRotuma Initiative, a community-based environment education and awareness development program, can be seen out and about on the island organising workshops or community visits about sustainable development, climate change and recently tourism.
The topic of tourism though is one that often attracts attention with its pros and cons spun around the tanoa during informal discussions.
From Rupeti's point of view, actively participating in activities that would inform and strengthen capacity building on the island is his way of reminding everyone of the need to keep our environment healthy and green.
"I joined LajeRotuma Initiative in 2008. It started in 2002 by a group of young Rotumans who committed themselves to carrying out community service on environmental education and awareness," said the 27-year old from Itu'muta.
"I heard about them through word of mouth then decided to join them. I think the first session I did was a 'Hanuju' (storytelling) eco-camp at Oinafa.
"It was mainly about myths and legends of the island in relation to climate change and the environment.
"The week-long eco-camp had activities like beach profiling where participants or youths had to go down to the beach and collect rubbish they found.
"They would analyse its effect on the environment and what they could do to keep their beaches clean."
Rupeti says another session included bird watching and tree hugging where native trees were identified and later tagged with driftwood and vine tree figures.
The tree figure was a message for the community to preserve the trees instead of cutting them down for daily uses.
"Before I joined LRI, I wasn't that concerned about the need to keep our environment healthy and clean. In fact, it was only after I joined that I became really conscious of my surroundings," he said.
"I learnt a lot and I know it's no joke when it comes to maintaining a sustainable environment - it's the real deal.
"Part of what I do with the group includes co-ordinating workshops and outreach programmes on the island.
"We even work with students at different schools on the island.
"I enjoy what I do because I know it's my way of making a difference in the world."
Rupeti attended Dilkusha Boys, Motusa Primary School and Rotuma High School.
As a youth, Rupeti believes our environment is the key to a sustainable future and often tries to incorporate this in the work he does with LRI.
He said LRI is not an organisation on its own but is part of wider network of island communities including the Rotuma Council, government and donor agencies, conservation non-governmental organisations and professionals in the energy, agriculture, business, environment and fisheries fields.
---