From Fiji Times Online (31 December 2007)
Skys the limit for Honnie
by Emeline Naikalivou
SAUHANI Fatiaki sure can cook. Just ask anyone who has tried out her tried, tested and tasty dishes.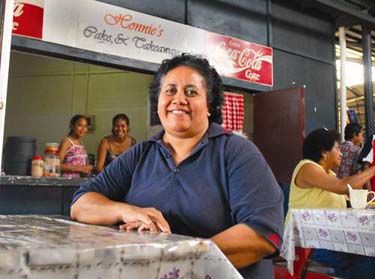 Honnie Fatiaki ... knows how to cook up a storm
The woman originally from Saulei Village, in Rotuma, has a steady stream of clients who go to the Flea Market, in Suva, just top grab a bite from her kitchen.
Affectionately known as Honnie, she attended Marist Convent Primary School, in Vatukoula, before moving to Lomaivuna Secondary School.
She was in fourth form when her father died and she had to find work to support her mother and seven siblings.
She started work with Morris Hedstrom as a cashier, and then decided to chuck that in and start her own business.
Working from home, Mrs. Fatiaki started baking for family and relatives.
As word of mouth spread, people started flocking to her with orders for birthday and wedding cakes.
"Most of the time people underestimate me," she said.
"They prefer ordering cakes from well known cake shops, but the only thing that motivated me was the positive feedback that I received from my customers.
"I would like to keep it that way."
That was 30 years ago.
Now in her early 50s, Mrs. Fatiaki is mother to five children and still bakes for a living and for her family.
She runs her own takeaway cafe at the Flea Market in Suva fittingly called Honnie where she sells cakes and food like beef chopsuey and chicken curry among a range of local delicacies. She admits that the support from her husband and children have helped her continue to do what she does best baking.
"I'm really fortunate to have my two daughters who help me, one helps me in the cafe and the other one helps in doing the chores," she said.
"My ultimate goal is to work hard and earn enough money to support my children's education and provide them with what they need."
Mrs. Fatiaki is married to Alfred Fatiaki, of Motusa, in Rotuma, a Staff Sergeant with the Republic of Fiji Military Forces.
They have five children Lawrence, 26, William, 23, Wilma, 21, Ruth, 20 and Vicky 13.
Her advice to people planning to start a business is to put their hearts into whatever they do and let the sky be the limit.
Now, that is a sure recipe for success.
---