From Herald Sun in Melbourne (8 March 2009)
Setanta O'hAilpin
He was hurling's equivalent of the AFL's Rising Star as a teenager; countryman and Sydney star Tadhg Kennelly says he was the Chris Judd of the sport.
He was seen to be destined to follow his famous brother, Sean Og, but he wanted more.
"It was the fact that it wasn't professional and it wasn't going to be professional in a hurry," Setanta O'hAilpin told the Herald Sun this week in his first extended interview.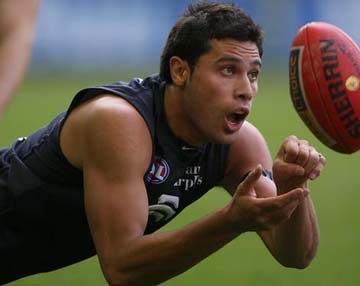 Setanta O'hAilpin
"If you ask anyone who loves sport and has an opportunity to become professional, they'd take it with both hands.
"I've seen Cork people like Roy Keane go overseas and play professional soccer.
"When the opportunity arose, geez, I grabbed it with both hands."
In his case, it wasn't a case of simply skipping across the water to England.
For him, it meant a move to the other side of the world, learning a game from scratch.
He was rookie-listed by Carlton in 2004 and has played 35 games for the Northern Bullants, the club's VFL affiliate, and 27 for the Blues.
While there has been precious little for Carlton supporters to cherish from the 2007 season, they have seen the athletic, enthusiastic, determined Irishman take giant steps forward.
He is superbly built at 199cm and 101kg, wants to play, loves to play, is determined to play and has an insatiable thirst for work and knowledge.
"My dad (Sean) understood the professional thing," O'hAilpin says.
"He said, 'If you want to go, give it a shot'.
"My mum (Emily), you know, like mothers do, was pretty sad. But one thing she always taught me was if you want something, and you want it bad enough, you might as well go for it.
"She said, 'It's your life, your decision'; they backed me 100 per cent, so I took the plunge and came out here."
His parents have visited several times and he has two sisters currently visiting, staying with him and his younger brother Aisake, a rookie at Carlton.
"I love every minute of it," he says, beaming.
"Carlton has been nothing but unbelievable to me, and Aisake; they've helped me every step of the way."
While Jim Stynes and Sean Wight, and, more recently, Kennelly, Colm Begley, Martin Clarke and O'hAilpin have or are making the transition from Gaelic to Australian football, there have been a dozen other Irish lads who have tried and failed.
Most are homesick, some simply are better suited to Gaelic football than the Australian version.
Yet as their numbers grow, homesickness diminishes as a problem. The Irish boys have a network. They talk regularly and catch up whenever they can.
O'hAilpin and Kennelly, who didn't know each other in Ireland, speak on the phone every week.
"I knew of him, like, but I'd never met him until a practice game (Sydney v Brisbane Lions at Princes Park) a couple of years ago," O'hAilpin says.
"I used to watch him on television back home. It was a great privilege to meet him.
"He watches my games and gives me a bit of advice. Great fella.
"Myself, Aisake, Begley, Martin Clarke, we catch up as much as we can."
The enthralling O'hAilpin tale had an unusual start.
"My mum's Fijian. She's from a little island 300 miles from Fiji called Rotuma, a little dot in the map," he says.
"They met in Fiji. Dad was working in Nandi on the oil rigs, Mum was working as a hotel maid. One night they caught up."
They married and lived in Sydney for 20 years.
Setanta and Aisake were born in Australia before the family went home to Ireland in the late 1980s, when he was five.
There are four boys and two girls, what he describes as "a normal Irish family".
They share Irish and Fijian names: Sean Og, Teu, Sarote, Setanta, Aisake and Etaoin.
Setanta is thriving on perhaps the broadest education any player has been given in the AFL.
He plays each week and has played in defence (full-back), forward and even in the ruck.
"Denis (Pagan) dragged me aside one Friday afternoon and said, 'You're going to be rucking'.
"When I first went in there, I thought, 'Jesus, what's happening here?'
"I just looked at it as another opportunity. As of now, geez, I'm enjoying it. It's something new, another string to my bow. I can always say I've played everywhere in Aussie rules."
He declares an indebtedness to so many people at Carlton. "Denis has been very good to me. I'd like to pay him back," he says.
Then there's Bullants coach Barry Mitchell, Pagan's assistants Tony Liberatore, Brett Ratten and Terry Daniher, property steward Wayne Gilbert, whom he hounds for footballs, and Anthony Koutoufides, who has spent countless hours with him in one-on-one skills sessions.
"I can't pinpoint one, they've all been so good to me," he says.
Outside Carlton, Kennelly has been his inspiration, his confidant, his support.
"I look up to him so much. He's an icon back home. To have done what he's done, it's unbelievable," he says.
"We just talk like friends. He'll say, 'I watched the game and this is what you did, what you could have done'. Geez, I look forward to it every week."
Kennelly called him early in the week leading up to last Sunday's Swans-Carlton game and said, "You better look out, you Cork bollock".
They embraced on the field after the game.
As exciting as it is for O'hAilpin this year, it has been a long and often frustrating apprenticeship.
"There's been days, games where I've played (with the Bullants) at Cramer St and thought, 'Geez, I'm a million miles away from playing AFL, you know'," he says.
"Days when I first came here and I'd be in bed and I'd be thinking, 'S---, what am I doing, what am I putting myself through?'
"Then, to run out underneath the banner at the MCG and to look around at so many people who have come to watch you play week in, week out, it's something no one can take away from me.
"Always in the back of my head I had this thing that one day I'm going to play AFL.
"You've got to keep believing in yourself. I'm just learning my trade, as heaps of footballers do.
"I kept saying to myself I was here and I was here to stay. I gave up a lot of things back home, I sacrificed a lot and I wanted to give it a fair effort, everything I had. If it didn't work out, in 10 years' time when I'm back home I can say, 'Geez, I went out there to Australia and I gave it my all and it just didn't work out'. I didn't want to have any regrets."
Events of recent weeks have lifted his confidence. He has played all 15 games this year, and there's every indication Aisake will be elevated from the rookie list next year.
He describes his younger brother as "a little bit taller (201cm) and a bit faster".
"My mum reckons my grandparents (her side) were pretty tall people," he says.
The great adventure has had its disappointments, but there has been the occasional thrill to sustain him, too.
"Winning against Essendon (Round 3) was a massive moment, just an unbelievable feeling," he says.
"The Richmond game (Round 1); my first goal - I loved it."
As strange as it sounds, O'hAilpin might have been born to play this game.
In addition to his height and athleticism, he enjoys the unstructured nature of the game and its physicality.
He is, he says, a work in progress.
Kicking for goal, for example. No, he's not nervous, but he is so intent on routine and technique, he runs too close to the man on the mark.
He credits Mitchell and Liberatore with teaching him how to kick. While he is more rigid in his execution than, say, Kennelly, he is getting better and hits targets. "Barry Mitchell taught me an awful lot about the game," he says.
Interesting that former Sydney captain Paul Kelly made a similar observation of Mitchell at his induction to the Australian football Hall of Fame on Thursday night.
O'hAilpin says he is happy bouncing the oval ball, doesn't worry about umpiring decisions, didn't realise you couldn't kick the ball "off the floor" any time you liked and was puzzled as to why you can be free-kicked for playing on when kicking in from outside the boundary line.
He still misses home; the simple things.
"Especially the summers, the bit of good weather we get, the football, the hurling, the fact I'm not playing with my older brother Sean Og. Playing in the backyard, like the Selwoods," he says.
"But I'm obviously fulfilling my dream.
"Every week, I'm getting more confident.
"The balls are just starting to stick, players are starting to kick the ball to me."
"I just want to play each week, week in, week out, and play as much footy as I can because it's something that I really love, like.
"I'm doing OK, obviously I've got a long way to go, but, you know, I'm getting there. Everything takes time."
Talking about time, he had to run. He had badgered Kouta into another kick-to-kick session.
---
From The Age (22 May 2010)
Setanta O'hAilpin: Beyond the lore

by Martin Flanagan

SETANTA O'hAilpin was almost named Padraig O'hAilpin.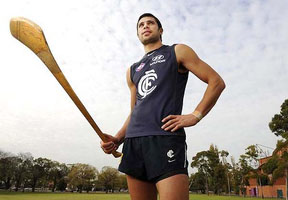 Setanta O hAilpin with his old hurling stick from his playing days back in Ireland
Photo: Pat Scala
Padraig is Irish for Patrick and he was born the day after Saint Patrick's Day. His father, Sean, from Fermanagh in Northern Ireland, is an Irish nationalist. After considering Padraig, Sean O'hAilpin chose for his fourth child a name every bit as famous in Irish mythology. The legendary warrior of the Irish dreamtime is called Cuchulain but his birth-name, the name with which he begins his mythical life journey, is Setanta.
That's what Setanta O'hAilpin calls his "Irish side". His mother is from Rotuma, a tiny island with 2000 people 450 kilometres north of Fiji. His parents met when his father was working on a nearby oil rig. He smiles and shakes his head at the thought of two people from such different places meeting and having children. "It's pretty random, isn't it?" He speaks with a quick Cork accent; the words skip across the surface of his meaning like stones skipping across a river.
Setanta's older brother, Sean Og (Young Sean), was born on Rotuma and lived there until he was seven. Sean Og O'hAilpin is one of the icons of Irish sport. Just as the O'hAilpin boys were sent to a school where all classes were taught in the Irish language, their father also insisted on them playing the Gaelic games. In 1999, within the space of one week, Sean Og played in an All-Ireland football final at Croke Park before a capacity crowd of about 85,000 people and an All-Ireland hurling final at the same venue before another huge crowd. He played both sports until a car accident severed a knee cap; since overcoming that injury, he has concentrated on hurling.
In 2005, Sean Og captained Cork to an All-Ireland title. It was what he did next, however, that seems to have changed things. He delivered his acceptance speech in Irish. That is the custom but some winning captains manage only a few sentences. Sean Og spoke at some length and with ease. Says Setanta, "Here was this coloured man speaking the Irish language. It made a few people question whether they had done enough for their culture."
Setanta is proud to say that he speaks Irish fluently ("It's something I thank my father for") and states his identity in clear and definite terms. To others it may be complex, but to him it is simple. "We regard ourselves as Irish of a different colour." Last year, his sister Etaoin was named Miss Cork. In the words of Stephen Icke, the Carlton football manager, Setanta O'hAilpin is "such a proud man". "That's his greatest strength," says Icke. "He's super competitive."
In 2005, an Irish documentary called Tall, Dark and O'hAilpin told the family story essentially through Sean Og and Setanta. It showed footage from the 2003 All-Ireland hurling final between Cork and Kilkenny. Late in the game, 19-year-old Setana O'hAilpin scored for Cork to bring the big crowd roaring to their feet. As a hurler, Setanta was swift and strong, aggressive in intent and, at a height of 194 centimetres, who was going to curb him? He was named Junior Hurler of the Year. And what did he do next? He left Ireland and came to Australia.
The magnitude of his decision is difficult to comprehend from this end but hurling is a proud sport with a history that is ancient as well as modern. In Irish mythology, the young Cuchulain, Setanta, counts among his skills prowess on the hurling field. None of this was lost on Setanta O'hAilpin.
All his life Setanta had wanted to play sport. When Sean Og, seven years his senior, first made the Cork team, Setanta had gone to training sessions with him and run water bottles. Like his older brother, he played Gaelic football as well as hurling but the ambition he nurtured was to become a professional athlete and the Gaelic games are amateur. Hurling is still his favourite sport. "It's the fastest field game in the world," he says. "It's unique." Icke sees a reflection of Setanta's hurling background in his ability "to keep on his feet and stay in the contest", an essential skill in hurling.
I asked Setanta what his first impression of Australian football was. "Just the toughness of it. It's the toughest sport in the world. You train for six months to play 22 games each of 120 minutes and you're expected to come up each week." The hardest aspect of his transition to AFL football was acquiring what he calls "game knowledge". "You can put a good athlete into Aussie rules and he'll run around all day, but you have to be able to find the football."
He established himself as a young man of singular intent from the outset. Within one hour of his plane touching down at Tullamarine airport in 2004, he was on the training track. When Tall, Dark and O'hAilpin was filmed one year later, Setanta was on the brink of playing his first AFL game. He also had his younger brother Aisake with him. Aisake was with Carlton for four years, eventually returning to Ireland at the end of 2008 having not played an AFL game. Setanta feels badly about what happened to Aisake, being the elder brother. "Family is everything to me, man. I wanted for him to make it so much. He had the same dream as me, but things didn't go his way."
When I asked Setanta if he copped much racism as a youth playing the Irish games, he said, "Not really. Because Sean Og had gone before me." Last year, Sean Og supported the Cork goalkeeper Donal Og Cusack after Cusack came out and said that he was gay. Sean Og was quoted as saying: "The reason Donal Og and I have a tight bond is because we've gone through the same thing on the field. Because of my background and his situation we've gone through the same pain on the field. Myself and Donal Og are lucky in that we're strong enough to deal with it, all you can hope is that decent people near the ones doing this [anti-gay] chanting will tell them to stop."
Sean Og seems to have played a role in Irish sporting life roughly similar to the one played in Australian football culture by Michael Long, both being partial outsiders by reason of race who transform their games from within. Setanta agreed with that view when I put it to him. I asked Setanta what he thought of Cusack coming out. "I was proud of him, man. That was not an easy thing to do."
Setanta is still news in Ireland. After his training flare-up with teammate Cameron Cloke last year, a story appeared in the Irish press quoting Sean Og as saying Setanta had thought of returning home at that time. When I asked him about that, he became slightly flustered. "I shouldn't have kicked him. I know that was against the ethics of Australian football. But now we have to move on." Going home at that time would, he says, have been "the easy thing to do".
So he stayed and, after eight rounds of the 2010 season, Setanta O'hAilpin is no longer a slightly comic act, no longer Carlton's Irish eccentric. Gerard Sholly, the man who recruited him to the Australian game, says one reason for his consistent good form this season is that the Blues are playing him in the forward line. "He's always been a forward. That's where he played in hurling." Icke says Setanta "is growing each game. Each week, we see him doing something he wouldn't have done 12 months ago, something he wouldn't have done 12 weeks ago".
Suddenly, he's a presence on the field, a tall one around whom good things happen from a Carlton point of view. He's combining with three indigenous players – Eddie Betts, Chris Yarran and Jeff Garlett. On his mother's side, Setanta is indigenous. He also draws inspiration from fellow Irishman Jim Stynes. "You feel down because you have a bad game and then you look at the battle he's fightin'. It gives you perspective."
Carlton supporters call Setanta "Carlos". Most people in this country haven't heard of Setanta, the Irish hero of antiquity, but they have heard of guitarist Carlos Santana. In the old Australia way, when someone looks a bit "foreign", near enough's good enough so they call him Carlos. Carlton supporters would do well to acquaint themselves with the story of Setanta O'hAilpin's name because it's a big part of him and the way he plays the game.
Setanta says the sharpest part of his AFL learning curve came when his first coach, Denis Pagan, played him on a succession of the best power forwards in the game. One of them, Richmond's Matthew Richardson, says you have to have "a fierce desire" to play as a key forward. You have to be able to shrug off defenders, you have to be able to shrug off the state of the game. If there is one quality Setanta can be relied upon to possess, it's a fierce desire.
---