From Fiji Times Online (5 August 2007)
Solo's quest for cooking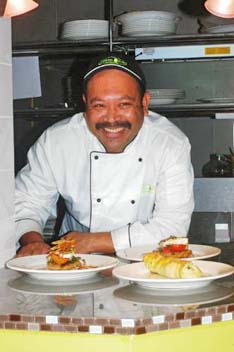 Solo Williams
WHEN he left Fiji twenty-two years ago to look for greener pastures overseas, Solo Williams had no idea his quest would lead him to learn how to cook and bring him back home as owner of a fine dining restaurant.
Mr Williams who is originally from Rotuma was in the Royal Fiji Military Forces before he left in search for a better life in Sydney, Australia.
He was posted to the Middle East in the 1970s and when he returned from his peacekeeping duties, Mr Williams decided to resign from the army and went to Australia.
"I left Fiji in 1984 and migrated to Australia and when I was in Sydney I was looking for a job. My first job was as a kitchen hand at a French Restaurant,'' he said.
He said he saw an advertisement and decided to go for the interview.
"When I reached the venue for the interview I was shocked to see a long queue of people vying for the position and got nervous.
"All those people who were being interviewed before me had a lot of experience while I on the other hand knew nothing about the kitchen and the job that I was hoping to get,'' he said.
But when asked by the people interviewing him about his experience and expertise, Mr William's reply was honest. He said if he was given the opportunity to learn then he would be the best student and do a good job.
His reply got him the job!
"I was quite surprised when I did get the job and I worked very hard at it and found the kitchen a very interesting place because there were people speaking different languages.
"Eventually I began to observe how the cooks were doing their work and decided to learn cooking.
"The head chef had been observing me and my growing interest in cooking and one day he asked me if I would like to learn to cook and I said yes.
"The next day, I came with a pen and my notebook and began to watch them closely while they cooked the various dishes. I was sent to a chef's school where I studied for four years and then I began my career in cooking,'' said Mr Williams.
Mr Williams said when he was serving in the Middle East he used to watch the Arab women cooking on open fire and they would grind their own herbs and spices.
"I had not paid much attention to their cooking then but as I slowly got to cook, I began to recall the types of herbs and spices they were using and use them."
He met his wife Kim while he was in Tasmania and they got married and have a daughter. Tasmania was also where he won a big chef's competition and surprised a lot of locals and famous chefs.
Mr Williams moved back to Fiji last year and recently opened his fine dining restaurant in Suva's Midcity Plaza called "Green Olive".
The restaurant boasts Mediterranean influenced cuisine with lots of fresh tomatoes, vegetables, olive oil and other fresh greens. Mr Williams said the restaurant was open to anyone who had a taste for fine dining.
---
From an article by Judy Redeker in the journal FoodService, November 2003
The November 2003 issue of the journal FoodService contains an article honoring Kauata Munivai Solomone, son of Gagaj Maraf Solomone. Kauata, who changed his name to Solo Williams after emigrating to Australia, is head chef at the Oyster Cove Inn at Kettering, described as a "beauty spot, sailors' haven and small working port on the D'Entrecasteaux Channel, south of Tasmania's capital, Hobart."
When asked if he first learned to cook on Rotuma, he answered:
"Oh yes. There were eleven kids in our family and Dad looked after some from other poor families. He divided us into three groups and we took turns to clean the house, cook and have time off. We ate lots of fish, lots of taro--wrapped in leaves and steamed in the coals. Before it was dark we would gather kindling after school, and sometimes we had some cans of tuna--from the shop--some cans of corned beef, things like that. Dad showed me how to make a roux, to extend the can, add vegetables, make a kind of soup. It takes a lot to feed eleven kids."
After finishing high school in Fiji, he started an apprenticeship with the Fiji Times, but inspired by his brother, who was serving in the Middle East with the Fiji Forces, he joined the military. He served in Lebanon with the United Nations peacekeeping force.
After completing his term in the military he migrated to Australia where he began his restaurant career washing dishes in a vegetarian restaurant at King's Cross. Then, according to Solo:
"The Glebe Terrace gave me a job, with no cooking experience after I offered to work for a week without pay. 'Show me and I'll do it', I said. I didn't even know what shallots were, what celery looked like. Every time I came across a 'new' vegetable I wrote it down and drew it so I'd recognise it again. I started an apprenticeship with them, but came to Tasmania for a holiday, met my wife, and transferred to Rockerfeller's to finish it. My wife bought me a book on cakes and I made one every day for practice. Chefs came and went, some very helpful. Then I was 'poached' -- headhunted -- and went to Prego's. Now it was Italian food. Some of the things I learnt from the chef at the Terrace, a French restaurant, were very helpful here. I've also worked at Knopwood's and helped start Sal's in Salamanca Place."
To keep up with trends he reads the most recent magazines to find out what other chefs are doing. "I read recipes," he said, "but always change them, make sure the tastes will combine. When I visited my home on Rotuma some years ago I surprised them, used all the traditional foods and methods, but made them 'different.'"
He has also learned to make food sculptures:

Solo Williams' gold-medal winning sculpture
"I saw a margarine sculpture at the (former) Sheraton Hotel, done by a food artist. I'd learnt the basics during my training, but still I wondered how he'd done it, so I looked at it and looked at it, went to the library and found some books to show me how to do it, and practiced underneath my house. I was determined that next year I would enter the competition. I made a metre high sculpture of a deer, two dogs and a hunter in the mountains. I got a gold for that. If you really want to do something, you just have to practice and practice. Next I tried cake decoration, and won a silver for that. I think the artistic presentation work I did with the Fiji Times was good training, but I wish I'd had a teacher to show me the techniques, the shortcuts."
Solo said that his seventeen-year-old daughter Sophie cooks at home, but that his son Mika is not so interested. "But we eat healthy food and I grow my own herbs for home and work," he reported.
When asked what would be his next challenge he answered: "Well, I'd like to improve my golf game! Also, I would like to write my own recipe book. Sophie is already writing down my recipes. We go to the kitchen together and she writes it down, what Dad has done. We'll make a good team."
---