From Fiji Times Online (22 May 2012)
Steven Croker: Farming for my family

by Geraldine Panapasa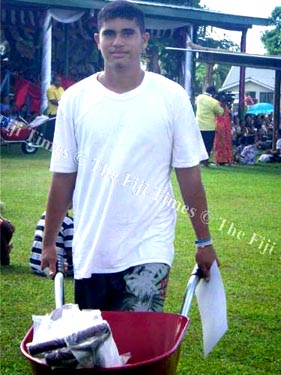 Steven Croker was named the Rotuma agriculture show's Young Farmer of the Year last week
Picture: Geraldine Panapasa
EVERYONE'S eyes were glued to the main podium at Ahau in Rotuma waiting for the announcement of the winners of the Rotuma agriculture show last week.
One by one, farmers from different districts came forward to claim their prize - a red wheelbarrow and new farming equipment.
When Steven Croker's name was called out, he came out from the crowd and hurried to claim his prize - a sense of pride emanating from his family, his district in Juju and the whole community.
He was named the Young Farmer of the Year for his commitment and dedication to subsistence farming.
The young lad paid tribute to his father Patrick Croker for teaching him tricks of the trade - and later reaped the benefits of hard work during the prize-giving ceremony.
"I learnt how to farm from my father. It's a lot of hard work and you have to commit yourself if you want to get a good harvest," said the 18-year old.
"I attended Sumi Primary and later Rotuma High School but I've been helping my father at the farm so it's not something new.
"I don't sell my produce. Whatever I plant is for my family's consumption."
Those familiar with farming on the island would know that it would take at least an hour or so to reach farmlands which are mostly up on the hillside.
Steven's farm is located one and a half hours from his home through the lush greens inland.
"It's up on the hill. A normal day for me is waking up early, have breakfast then off to the farm," he said.
"It's walking distance so that's how I get to my farm. I plant dalo, cassava and other vegetables, cabbage included.
"I enjoy farming and the fact that I'm able to help my family. These new planting materials will definitely help me with my work on the farm."
He said incentives at the agriculture show gave youngsters the boost to take up farming on a large scale. For now, he says, he is content with providing for his family.
Meanwhile, the Rotuma Day celebration was an opportune time for farmers to display an array of produce.
Most notable was the farming display in front of the Pepjei District stall. Pineapples, yams, dalo, cocoa, pawpaw, cabbage and a creative coconut tree were on show for guests and visitors.
Minister for Primary Industries Joketani Cokanasiga and government officials were taken on a tour of the various stalls that displayed clear Virgin Coconut Oil, assorted handicraft and homemade pastries.
---