From Fiji Times Online (20 September 2015)
Tino does it solo

by Ernest Heatley

Growing up in Rotuma, Tino Hunt hadn't really envisioned a career in music nor did he ever dream of one day travelling to countries he had only read about in books.
Life on the island was bliss, but essentially, for a young man looking to discover the world, it wasn't exactly his oyster.
"Life in Rotuma basically revolved around the farm but I knew I had more to offer than just farming or lazing about on the beach," said the 41-year-old.
Like other youths from the island, he travelled to Viti Levu in search of better opportunities because there were just none on his native homeland.
The strapping young lad managed to find employment at the Vatukoula gold mine in 1992 and he would spend the next five years on this sun-swept section of Fiji's main island.
It was during this period that Tino dabbled with a love of his life in the electric keyboard.
Tino is an autodidact, an English term which refers to people who are self-taught.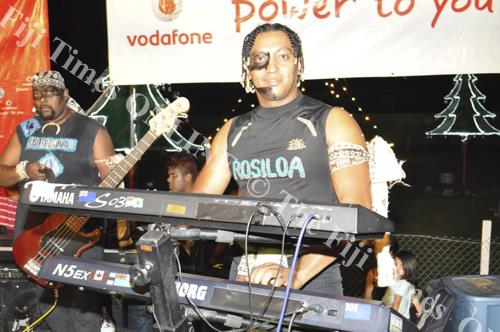 Tino Hunt at a live performance with Rosi Loa.

Picture: Supplied
"I started getting into music during this time but basically I taught myself how to play keyboards and other instruments," said the Haga Juju native.
While in Vatukoula he met up with brothers Mesu and Victor "Carlos" Kamoe, two guitarists who had already cut their chops playing with acts like pioneer reggae band Exodus, along with another notable Rotuman artist in George Marseu.
It's no secret that Rotumans are good musicians and for Tino his lineage was no different, with grandfather Afasio Sukou, having led a band on the island during the 1960s that included mandolins, a banjo and ukeleles.
Interestingly, the man who was instrumental to Tino's initial interest in keyboards is Catholic Church of Fiji's Archbishop Peter Loy Chong, who was then a parish priest in Vatukoula.
Archbishop Chong was the manager for Good Samaritan, a band including the Kamoe brothers and Tino, but the band name was later changed to Vatukoula Youth Band.
"Father Chong was important to my musical development because he taught me to be humble. That was important and helped me through many difficult times in the years ahead," reveals Tino who also has had stints with Rosi Loa.
"He (Archbishop Chong) also taught me to appreciate other musicians' talents and their weaknesses."
Humility is not an easy trait to build, especially in an industry where there are egos aplenty and where competitiveness often rears its ugly head.
There were times when Tino had to swallow his pride and set up microphones and other equipment for others, happy to be in the background.
Every musician has his start and for Tino, this was it.
"With the help of Fr Chong I learned to play the piano. Fr Chong was also a musician who liked the keyboards and guitar," recalls the soft-spoken entertainer.
This laid the platform for his rise in local music circles as an in-demand keyboardist, a standing that was borne from passion, humility and endless practice sessions.
Tino joined Danny Costello and his band the Cruzes in 1997 starting a longstanding relationship with the now Samoa-based entertainer that continues to this day.
"Joining Danny basically helped take my playing to another level," offered the keyboard journeyman who went on to play alongside Pussycats singer Tony Willé, during her short tour of Fiji in 2010.
Tino also enjoys a healthy ongoing musical association with former Exodus, Purple Haze vocalist Stevie J Heatley, who now plies his trade in Auckland, along with Pacific Harbour-based blues axe-man Robert Verma.
At one time he was dividing his time weekly between Danny Costello's band and Robert Verma's set-up in the Denarau area.
Although he enjoys many types of music, including rock and blues, reggae is the cornerstone of his keyboard style having been greatly inspired by the late South African star Lucky Dube when he toured Fiji in 1995.
""I found Lucky Dube's music more melodic, Bob Marley's was more soulful but I was just hooked on his keyboardist Thuthu Kane Sele's style."
Tino has incorporated Kane Sele's keyboard sounds into his overall playing style.
In fact he has been in consistent contact over the years with Kane Sele.
Over the years Tino has played with some of Fiji's finest, notably the legendary Sakiusa Bulicokocoko at a Heilala Festival gig in Tonga in 2001, an experience that he recalls vividly.
"Every night was a great night with Sakiusa and I was watching how he talked to the crowd and how the crowd responded.
"I knew he was a Fijian musician but when I actually played with him, I could feel so much soul and he sounded more like an American. I always thought he was from America because he had so much soul."
While honing his playing style, the artiste has come into his own as composer and songwriter having penned 20 originals in the past five years.
Making his own music has been fulfilling but the industry has also taken him abroad to countries like Taiwan, Korea and Honk Kong.
Playing in the shadows of others over the decades, Tino has now decided to step out on his own and become a solo artiste, perhaps the truest test of any musical artiste who wants to be taken seriously.
Now based in New Zealand, Tino is ready to release his first English compilation "People Need People" a 10-song album set for local launch in December.
This is a follow up to a 10-track Rotuman album he let out on his native island in 2013 titled Rotuma Heo'a.
Tino played keyboards, guitars, bass and drums on his new album which was produced by the talented Phil Dakei at his Noisy Oyster studio in Lautoka with additional mixing done in Auckland.
Based out of Invercargill, Tino is normally engaged with a band called "The Breeze" among others in New Zealand he occasionally works with, including Stevie J Heatley and former Lautoka soccer striker turned reggae front-man Karuna Gopalan.
For now attention is focused on marketing his product, which is just about ready for delivery to those of us who want something new and original to digest.
It will mark the coming of age of an artiste who has certainly made good on his quest for brighter prospects from a small island home.
---