From Fijitimes Online (3 December 2002)
Tomasi Kunau shows the way
by Josefa Makaba.

Wainiyavu Village School in the interior of Namosi is in a totally different world compared to Tuakoi Village in Rotuma. But not for school Head Teacher Tomasi Kunau.
For the past three years Kunau has constantly been traveling up to the deep mountains of Namosi where Wainiyavu is situated. To reach Wainiyavu, one has to board a punt from Navua Town or Nakavu Village.
From there you have a one and half or two hour ride upstream until you reach the Namuamua Village. Getting off at Namuamua, one has to walk or horse ride to Wainiyavu. For someone new to the difficult terrains of the interior of Namosi it can take more than two and a half hours to finally reach Wainiyavu. Along the way you have to cross a particular river 23 times. But for Master Kunau all the difficult challenges he has faced at Wainiyavu is a norm.
"When I first came here it was very difficult but I was determined that as a teacher I had to put everything aside and help improve the education standard of the children at Wainiyavu," he said.
"I brought my wife up here once in 1999 and after trying out the put rides and wading across the river 23 times she said that was to be the last time she'll ever set foot in Wainiyavu. And she has kept her word and stayed away from Wainiyavu. I have been living alone in my quarters at Wainiyavu during each school term for the past three years."
A normal day at work for Master Kunau and his fellow teachers at Wainiyavu Village School starts at 7:30 am in the morning and ends at 4:30pm to 5pm in the afternoon.
"We also have classes in the evening where we help out those students who have difficulties in their subjects."
But during the past three years Master Kunau has been at Wainiyavu, he has been trying very hard to change the way the villagers look at education.
"Here education is often just seen as enrolling a kid to class one and see that he or she finishes at class 8," Kunau said.
"During my time here the last three years I have been urging and motivating the parents that they need to broaden how they look at education and try and help their children reach for a higher education level to reap the benefits of their parents' investment."
"So now I'm slowly seeing the changes in the way parents here look at the education of their kids and I'm quiet happy for them.
Last year we had more then 80 percent pass in the Fiji Eight Year Exam and we look forward to achieving another year of excellent results next year."
When asked if he will continue at Wainiyavu in the new school year, Master Kunau said he was willing to endure another year of punt rides and crossing the river 23 times as he wants to see that the education level in Wainiyavu is raised and given the priority that it needs.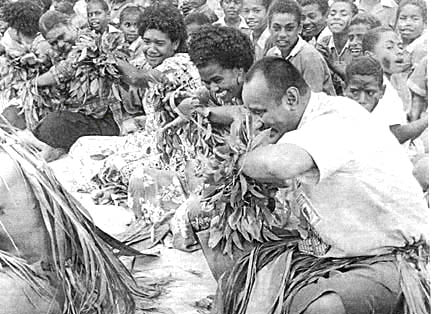 Master Tom Kunau performing a vakamalolo at the school's annual function
---