Josaia Usa
My name is Josaia Usa, from Vagrua, Else'e, Malhaha.
I was born in 1961 and attended class one to class eight at Malhaha Primary School and then went to Rotuma High School. I left school in 1977 at a very young age (16 yrs) and stayed in Rotuma to help my family (la' se ufa, 'ol niu, hago'at). Then in 1979 I left my very beautiful island paradise and headed to Fiji.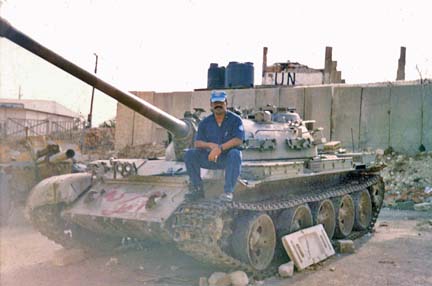 Sitting on a Lebanese tank outside Cana town in southern Lebanon, next to Fiji Battalion HQ
In 1980 I enlisted in the Fiji Military Forces. After completing eight weeks basic training, I joined the Engineering Unit. In June 1981 I left to serve in Lebanon under UNFIL and came back in June 1982 after the Israeli invasion. I worked on Viti Levu, reconstructing schools, community halls and churches, and on 1 December1984 I was again selected to serve in Lebanon, and came back to Fiji in December 1985.
I stayed in the Engineering Unit for almost nine years, until I decided to go back to school. I completed my Certificate in Carpentry & Joinery in 1995 at the Fiji Institute of Technology, and in 1999 I went back to serve again in Lebanon. I returned to Fiji in October 2000, after my last tour of duty as a peace keeper,
I switched fields from qualified carpenter to learn something new in the field of occupational health and safety (OHS). I started on Modules 1 & 2 OHS, and resigned from the Fiji Military Forces in May 2005 and joined Fiji Institute of Technology as a Lecturer in Occupational Health and Safety,
In my office at Fiji Institute of Technology
I completed my Diploma in OHS under the National Safety Council of Australia (NSCA) in 2003 and earned a Certificate IV in Assessment and Workplace Training, as well as a Certificate as an Accredited OHS Auditor under the Minerva Consulting Group Australia. I'm also a tutor to a new program (Diploma in Business Front Line Management).
Looking back on all those years, I never thought that one day I'll be standing in front of 40 to 50 students as well as talking to doctors and senior staff of the Ministry of Health in Fiji (I was selected to be one of the tutors for the Diploma in Business for Front Line Management Program, which was Funded by Australian Aid).
I'm married to Teretuma Fesaitu Solomone, and we have two sons, Ezra Kafoa and David Konrote Solomone.
My story is just something in me that I wanted to share with my fellow Rotumans who are in Rotuma, Fiji, and around the world. "Nothing is impossible when the heart is willing."
May the our Heavenly Father shower his blessings on our island paradise in this festive season. I would like to wish all my fellow Rotumans a Merry Christmas & a prosperous New Year,
Gagaja la hanis ma no'h a'gesea ma es tutu atakoa e av oafoaf te is…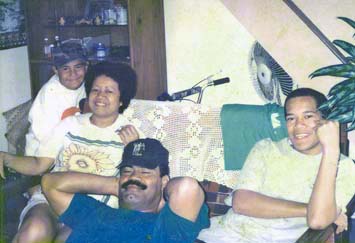 On the Settee: My wife Teretuma and our eldest son Ezra Kafoa; kneeling to the left of Teretuma is our young son David Konrote Solomone. I'm sitting on the floor in between Teretuma and Ezra.
---