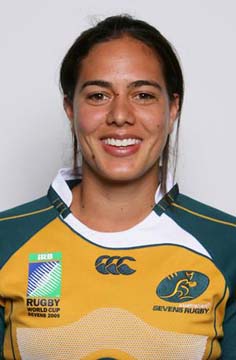 Train, train, train … sevens star Rebecca Tavo.
Photo: Getty Images
From Rugby Heaven (13 March 2009)
Driven Tavo makes tracks to training
by Greg Growden
SOME precious professional footballers complain if training goes a minute over schedule, or if forced to endure an autograph-signing session, or if their business-class flight meal is lukewarm.
Compare that to the extraordinary lengths Rebecca Tavo, one of the stars of the Australian women's sevens team that won the World Cup in Dubai last weekend, goes to just to play rugby.
Every second week, Rebecca spends a full day travelling from Port Hedland to Brisbane, via Perth, to ensure she can train, play and remain part of Australian rugby's glamour team. And then another full day getting back to Port Hedland to pay the bills as a train driver for BHP Billiton, where she is on the midnight to dawn shift, transporting iron ore between various outposts.
Three years ago, Rebecca became BHP Billiton's first female train driver, and currently controls locomotives along 400 kilometres of rail line through the West Australian outback between Port Hedland and Newman. It gives her plenty of time to think but not much opportunity to train.
"There's absolutely nothing out here," Tavo said from her camp near Port Hedland yesterday. "There's not even grass to train on. I'm running around with the snakes, the cows and the kangaroos. That's why, when I'm off, I fly back to Brisbane, even if it takes me a whole day to get there. I do it because I want to join the teams, and just want to keep playing at that level."
With a shift that involves two weeks on and two weeks off, Tavo wastes no time heading to civilisation and preparing for the latest international tournament, the next being the celebrated Sevens tournament in Hong Kong later this month.
"I didn't always want to be a train driver but my family are from Port Hedland and they are involved in rail," Tavo said. "So I sort of drifted into it. I was playing touch football in Brisbane a few years ago, and got injured and went back to Port Hedland to earn some money. That led to me driving the big long trains, which are two or three kilometres long."
After the triumph in Dubai, where Australia won the final over New Zealand in sudden-death extra-time, Tavo had little time to celebrate because almost as soon as the team returned to Sydney on Monday she was on her way to Port Hedland.
"The impact of winning the World Cup is still hitting me," Tavo said. "My family said that I had to frame my jersey. And that brought home the point that this must mean a lot not just to me, but to all my family and everyone who loves rugby."
And with it a completely different lifestyle from that to which she is accustomed.
"Dubai was different," she said. "You're in a desert and all of a sudden you are surrounded by all these flash buildings everywhere. Where we were staying was six-star accommodation."
And there weren't any snakes, cows or kangaroos.
Note: Rebecca is the daughter of Lagsefuri and Carol Tavo in Australia. Lance (nickname for Langsefuri) is the grandson of Gagaj Garagsau Albert, and the son of Gagaj Fiu Satiak Tavo and Susau Albert.

---
From The West Australian (29 March 2009)
Ironwoman of the Pilbara dreams of new rugby glory
It would be enough of a feat that, at the age of just 26, Rebecca Tavo is one of only three women to drive iron ore trains for BHP Billiton in the Pilbara and the first to be trained by the company.

The elite trio are qualified to control, single-handedly and for 12-hour shifts, the massive trains which stretch to 350 wagons, nine locomotives, 50,000 tonnes of ore and worth too many millions for most of us to contemplate.

But that isn't enough for Tavo. Not by a long kick into touch.

She was also a member of the Australian women's rugby sevens team that won the recent inaugural World Cup in Dubai, defeating tournament favourites England with a try in extra time. Today, she will again don the green-and-gold to represent Australia in this weekend's Hong Kong Sevens tournament.

Oh, and she's also played touch rugby for Australia.

The logistical difficulties are obvious: the Australian team trains on the east coast and she works a fly-in, fly-out two-week roster in the Pilbara. Yet she has managed to do more than make the team — she was one of the stars of the World Cup win, sending her workmates and her extended family in Port Hedland into unbridled joy.

During her working weeks, home is Redmont, halfway between Port Hedland and Newman. There's not a gym in sight and the best hope for chin-ups is a fortuitously located bar in the cabin of the train.

There's nothing so simple as a training run in the cool of the evening or early morning either. Tavo's shifts rotate, so she has found herself running in the afternoon, once in 49C heat, or at 2am, when she hopes that a startled snake does not become an unwanted training partner.

She follows a strict training plan devised by her coaches, perhaps 10km runs or sprint sessions when a tournament is close. Yep, Tavo says, even when it's really hot. But she's a Port Hedland girl, born and bred, and they breed them tough up there.

"It was a bit disappointing that it wasn't all that hot in Dubai," she says, contemplating her great advantage over the English roses.

Tavo has four brothers, all of whom, and her now-retired father, work with BHP Billiton. The family backyard was a place of ferocious competition but she was touched that her toughest, blokiest brother was observed to shed a tear at his sister's success, amid what was a raucous family celebration in front of the television.

Her dad, Lance, is a proud Rotuman, from a tiny volcanic island north of Fiji, and her mother Carol — who shared the joy in Dubai — is Australian.

Tavo spent five years as a boarder at Penrhos College before heading to Brisbane, where she now has a home. But the Pilbara called and she joined her dad on a track maintenance gang.

One of her workmates reports with glee how delighted passing train drivers were to discover that one of the dust-begrimed gangers was, on closer scrutiny, a most attractive young woman.

"But then I thought it was time to grow up and get a real job," Tavo says, and she applied — with 800 others — for one of six traineeships as a train driver. With one other woman, she spent three months in the classroom, then after a period with a mentor, took her place, alone, in the cabin.

It's not a lonely life, Tavo says, though she thinks she is a solitary soul. There's always something to see out the window — kangaroos, cows, emus and once, wild donkeys — and plenty of time to dream of more rugby glory.

PAM CASELLAS
---
---
Rebecca Tavo and Walleroos in Hong Kong

Rebecca Tavo scored two tries in the Walleroo's Hong Kong Sevens championship match with China

Unstoppable: Australian women's rugby star Revecca Tavo at the controls of a Pilbara iron ore train

Picture by Nic Ellis
---
---