From Margaret Enasion (13 May 2009)
The Sacrifices People Made

I have always loved to watch sports like rugby union and league, soccer and netball, whether at the stadium or in TV, because it is reminiscent of the joyous times I spent with my son, driving him to play footy.

He's big and very talented and was twice offered a football scholarship, but his father had this pedantic notion that a sports career is short lived and even shorter with an injury and he wanted our son to get an education.

Jake relented and gave up the pursuit of his dream of becoming a professional rugby player. He nowonly plays club rugby as a prop for recreation and to keep fit, but he studied and became a qualified teacher at the age of nineteen. Then, for the money, he opted out to work in the financial planning industry and went on to complete two more degrees in financial planning and marketing to work for the largest superannuation fund manager in Australia.

Now twenty eight and married to Monique, he has given us have four beautiful grandchildren of whom three are boys that look much like Latinos. The eldest, who will be seven this year, does modeling of children's clothes for some of big brand names in Australia.

But whenever I read the sports column in this website, I can't help but think of the parents who like me gave time to see their children play sports. One in particular that I wanted to remember and acknowledge is my first cousin Elena, who is married to John Sutton.

I recall the wonderful weekends my family spent with them at Botany where we'd watch their talented children, John Junior, who played rugby union and league, and Joanne, who played football and netball.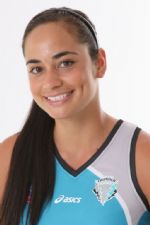 Joanne Sutton
Frankly I was very impressed with my cousins and the sacrifices they made for their children. Their daughter Joanne was given a three-year scholarship to the Australian Institute of Sports at Canberra where she represented Australia in the Under 19 Netball team. She has progressed to state level and is that beautiful young woman playing wing defense for South Australia's State Team, the Thunderbirds, in the ANZ Bank National Netball Competition between Australia and New Zealand. She is also studying science and law majoring in forensic medicine.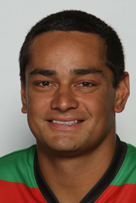 John Sutton
As for 22-year-old John, he is that handsome 6.5 feet-tall centre who wears the number 6 jumper for the South Sydney and the City Representative Team in the Australia National Rugby League competition. In his third season, John is said to be one of the youngest rising stars of the game. He lives at home and is chauffeured around by his protective mum. And like most sportsmen, young John is on a several-hundred-thousand-dollar salary with sponsors chasing his signature with offers of luxury cars. With his dad a builder, John is rumoured to be investing heavily in real estate properties near the world-renowned beaches of Maroubra and Bondi.

But I'd suggest to the young readers of this website that where possible they should watch these eligible, beautiful, and talented brother and sister play and behave in and out of the field. They have shunned the limelight and adulation, sheltered by their parents, who serve as role models of sacrifice and motivation for all aspiring future athletes for achievement.

I know my cousin Elena who is the youngest daughter of Semesi and Garsau of Savlei & Lau, Rotuma, and with her husband John Sutton are very down-to-earth people. Though they are very proud of their children's achievements and pleased to see the fruition of their sacrifices, as I am for my son, both are very humble and reluctant to broadcast their success until now, which I share in the belief it will encourage other Rotumans too.
---