From Fiji Sun (19 July 2009)
I will never quit: Sorby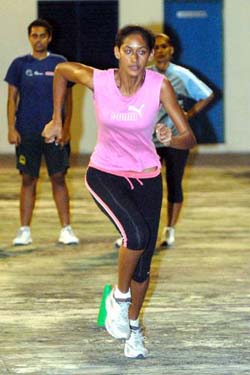 Looking sharp ... Cecelia Sorby trains at the SPG Netball Courts in Suva on Monday
Air Pacific Fiji Under 21 shooter Cecilia Sorby says nothing will stop her from reaching the top in netball.
Sorby, whose visa was rejected twice by New Zealand, said what had happened would not tarnish the desire to represent Fiji in netball.
The Suva Grammar School deputy Head Girl said the incident has made her stronger for the World Youth Championship in Cook Islands next month.
She said she knew all along after being selected in the national training squad that shes would be banned from travelling with the team to New Zealand and Australia because her dad is in the military.
But the Raralevu lass from Tailevu never lost hope in taking up the sport as she worked tirelessly to convince national coach Melissa Walker.
I knew all along from Day One that I will not be allowed to travel with the team to NZ or Australia because my dad is in the military, the Form 7 science student said.
But obstacles will not make me quit netball, instead it has made me stronger. To be successful in life we will first face stumbling blocks and for me my biggest test was when my visa was rejected during the U21 NZ tour.
But I never gave up hope and continue to play my favourite sport.
Sorby will not travel with the team to Cook Islands via NZ instead will go through Los Angeles then to Rarotonga meaning that Netball Fiji will spend more than $5,000 for her fare only.
Coach Walker said Sorby would be one her top bets at the WYC and was hopeful that the Raralevu lass would rise to the occasion during crunch time.
Walker said she would do her best in getting Sorby to be part of the team because of the talent she has.
Even if Sorbys fare is amounted to $10,000 I will still find a way out to take her for the world games.
This is a world cup, I need to take the best and of course Sorby is one of my best players and I know she will deliver the goods, said Walker.
The 18-year old only took up netball last year after being forced by one of aunties to join Hanua in the Suva club competition.
At first she hated the sport but after playing against players like Matila Waqanidrola, her love for the sport blossomed until today.
One of my aunties forced me play netball last year where I play for the Hanua team in the Suva competition.
Actually my mum is from Rotuma thats why I joined Hanua then from there I joined the Suva Under 21 team then the national team.
She wants to be a dentist in future.
---