From Fiji Times Online (26 July 2009)
Lucy's sacrifice: She puts Fiji before family
By Indra Singh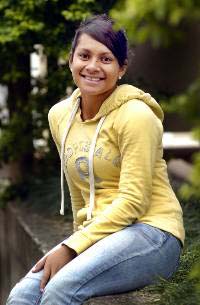 Roots woman ... Lucy Yakapo is full of fire in the mid-court and is ready to play her heart out for Fiji
LOOKING up at the stands during training and games and not seeing her parents and siblings cheering her can be tough but not for fiery Fiji Under-21 netball star Lucy Annabel Tuipolotu Yakapo.
Chosen for a mid-court role, the Australia-based has sacrificed seeing her family for the past seven months.
A tough ask for anyone at the best of times, the drive to be in the national team has inspired Yakapo to carry on.
That paid off when she was named in the final 12-member team for the World Youth Netball Championships in the Cook Islands next month.
Having never thought about national duties when she started playing the sport at primary school, the Rotuman lass jumped at the opportunity when the call to represent Fiji came.
Yakapo grew up in Fiji, attending Levuka Public School until her family emigrated to Australia in 1997, where she enrolled at the Monterey High School, in Victoria.
Dad, John, hails from Malhaha, Rotuma, and mum Wati is from the bountiful island of Gau. She has three sisters and a brother and is the second child.
Family is dear to any Pacific Islander but to achieve her aim Yakapo has had to give up that love and affection even though she misses them like crazy.
In Fiji, she has been staying with an uncle and aunt and they have been as supportive as her parents.
"I do miss my family very much," Yakapo said.
She comes from a decidedly sporting family -- even mum plays netball.
Yakapo is registered with the Frankston club, in Australia, and her road to donning the national bib started with an email.
"My mum got contacted by Netball Fiji and I was like why not give it a go," Yakapo said.
"Before that I never thought really of playing at national level even though as a Fijian I always wanted to represent my country.
"But we don't really think that this will happen but I am glad it did for me."
She came to Fiji and as usual, the first reaction by the other players was, "who is she".
"It was funny because everyone was like who is she," she laughs.
"However, MJ (Maria Lutua) was my first friend.
"She came up and spoke to me and from there I started making friends with the squad members and now we are so close."
She is another of those modern, academically-minded sports stars.
Yakapo is studying to become a nurse at a nursing institute in Cranbourne, Melbourne.
But while she cares deeply for all people, Lucy will not show any mercy on court against what is expected to be physically bigger opposition.
"We know that we have tough teams in our pool but we are ready.
"We are not going to give up easily," Yakapo said.
"Australia can be the top but we will see when we meet them on the court."
Her confidence level is great and it is surely going to shoot higher in Rarotonga for another reason.
Her parents will be in the stands to cheer her into playing her heart out for Fiji.
She already has had experiences in Fiji that she never dreamt of and simply she loves getting back to her roots.
In Fiji, Yakapo had her first bucket bath during a water cut, story she still enjoys telling.
"After the world champs I want to come back to Fiji with the team before I go back to Australia," she said.
As for getting the invite to play for Fiji in the future, she said it would be, "awesome".
---