From Fiji Times Online (31 July 2009)
Paul Elaisa's stunner

By Indra Singh

SUVA Tritons club swimmer Paul Elaisa has taken an unbelievable 7.5 seconds off his personal best to claim the Fijian Under-17 200 individual medley record at the XIII FINA World Championships in Rome.
Elaisa, a student of Indian College, in Suva, swam 2:22.09s to beat a record that has been standing since September 1992.
The record was set by five time Olympian Carl Probert.
The 15-year-old Elaisa has declared he's not done yet, with a menu of records still in his sights.
This adds to his record breaking U17 200m fly swim in the championships so far.
Another day has once again seen the young Fijian swim team rise to the occasion and crush their personal milestones.
Nadi Barracuda's Cheyenne Rova cut a second off her personal best 32.57s, coming within inches of the national record in the 50m backstroke.
Her sister swam a courageous 33.57s in the same event, while Tieri Erasito swam 2:45.60s in the gruelling 200m fly.
Australian-based Douglas Miller and Suva Tritons Elijiah Erasito sliced their personal bests by half a second and two seconds respectively in the 100m freestyle, a remarkable effort in a sprint event.
On the previous day of competition, the Fijian girls shared the same call room as Michael Phelps, joking that their own focus put him off his race to lose his pet 200m freestyle.
That same day, Miller bettered his 50m breastroke personal best by a second while Cheyenne Rova carved 5s off her best 200m freestyle time.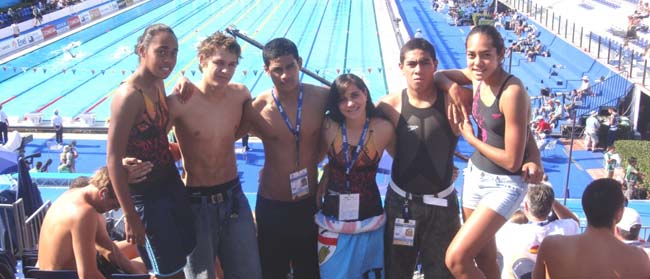 L to R: Cheyenne Rova, Douglas Miller, Elijiah Erasito, Tieri Erasito, Paul Elaisa, Adele Rova
---