From Fiji Times Online (18 October 2009)
More to come from Rotuman community
by Anare Ravula

WATCH for more Rotumans to be included in the Fiji national team.
Rotuman Day host club Sarafui secretary Lasarusa Donu-vakayanuyanu said he was very impressed with the abundance of talents witnessed at Suva Grammar School yesterday.
"We have Cecelia Sorby, Lucy Yakapo, Lisa Faktaufon, Bernadette Ramafono, Graham Dewes, Fatiaki Ravai, Victor Atalifo, Elaijie Erasito, Paul Erasito, Margie Erasitoto to name a few that have represented Fiji in international tournaments," he said.
He added competition in the two-day tournament included men, women and mixed volleyball teams, table tennis and also netball. "Satarua rugby team is the winner of that category edging Sarafui B in a close sevens encounter," he added.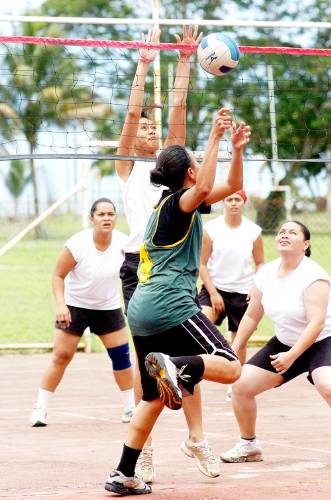 Emily Vaivao, second from left, blocks a Sarafui spike during the Rotuma Sports Day
Sarafui is a household name of the Suva Rugby Union club competition in years gone by and have also played for the prestigious Escott Shield.
Donuvakayanuyanu said with more organised sports, he won't be surprised if more Rotumans will rise to the occasion for the national colours in future.
On hand at the netball competition official table was Milika Munivai, the Netball Fiji president.
The annual Rotuma Games can be dated back to more than 50 years, judging from the 50th anniversary of the Games oldest club, and 2009 Games host club, Sarafui.
Games secretary Geraldine Panapasa pointed out that this year, table tennis was introduced and is held at the Suva China Club.
"Volleyball competition is usually held in May while the rugby and netball competitions are held in October.
"Points gained by each club during the three games will be declared the overall winner.
"The defending overall winner is Suva-based Satarua but each club has had their fare share of claiming the overall winner's title," she said.
There are eight Rotuman sports club affiliated to the Fiji Rotuman Sports Council including a club based in New Zealand that participates every two years.
Three clubs from Suva are newcomers to the Games.
There's a club from Lautoka called ASPAP Melrose Mairo and a club from Nadi called Granville. Another club from Rotuma is called Rotuma.
Panapasa said the Games brought together about 400 people.
"There are quite a number of talented Rotumans in the sports arena who done our community proud."
Some recent notable ones include aspiring player such as rugby league players Gabe Penjueli, Marka Kafoa, Fred Wesley, Naitasiri's Samuela Anise, Mosese Fatiaki, swimming babies Tieri Erasito, Elaijie Erasito, Paul Erasito, volleyball veterans Margie Erasito, and more.
The Games will finish tomorrow.
---