From Fiji Times Online (3 December 2009)

Women face off
by Josefa Makaba

HISTORY was created last night in amateur boxing when two young women squared off in the final day of the National Amateur Boxing Championships at the Raiwai Hall in Suva.
Leanne Penjueli, from the Temo Boxing Club in Delainavesi, faced Seini Vunibaka, from the Highlanders Club, in a three round contest.
The two never wasted any time as they exchanged blows in the center of the ring to the cheers of the small crowd who were present at the Raiwai Hall.
The smaller Penjueli sent her taller and heavier opponent to the canvas with a swinging left but Vunibaka beat the count.
Vunibaka's heavier shots began to take effect and slowly took a lot out of Penjueli.
The fight was stopped twice in the third round by referee Walena Vugakoto as Vunibaka landed a couple of heavy shots to Penjueli head.
But the tough Rotuman fighter never gave in and continued until the final bell.
Vugakoto awarded the fight to Vunibaka on points.
Boxing Fiji official Marika Yalimaiwai said they wanted to continue developing women's boxing in the country.
Yalimaiwai said Fiji could be sending a women's team to next year's Oceania Boxing Championships if women continued to show interest in the sport.
"We have been thinking about getting some women into the national team and I believe this is a good start," Yalimaiwai said. The finals last night were also used to select a national squad to prepare for the next Pacific Games.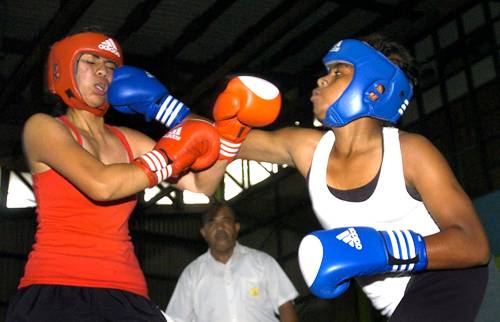 Seini Vunibaka connects with a jab on Leanne Penjueli's face in the 69kg women's boxing final last night.
---