From Fiji Times Online (5 December 2009)

Fiji-born Adrian in for Samoa
by Rashneel Kumar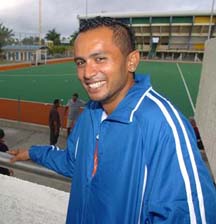 Samoa hockey rep Adrian Lal
THERE won't be any love lost when Fiji-born Adrian Lal will come up against his home side during the 2009 Oceania Pacific Cup Hockey tournament.
The former national hockey rep said he would try his best to help Samoa win its first-ever tournament at National Hockey Center in Laucala.
Lal, originally from Levuka, is of Indian and Rotuman heritage.
The former Marist club player is optimistic his adopted side is ready for the big challenge.
"The Samoan team has selected me and I'm obliged to do my best for them," he said.
The Samoa Observer employee said Fiji had a slight advantage over them.
"Fiji has a good turf. The hockey facilities here is much more advanced than ours," Lal said
"Samoa will go in as underdogs in the tournament and give its best to win. We are looking forward to a good tournament."
The side comprises of 30 male and female players.
Samoa is better ranked than the national sides (both men and women) regionally and internationally.
The teams will meet on Thursday at 6.15pm after the women's face-off at 4.30pm.
---