From Associated Press (24 December 2009)
Championship Game of The Basketball Travelers Invitational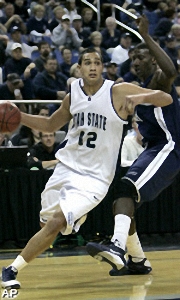 Tai Wesley driving to basket
LOGAN, Utah (AP) -Tai Wesley scored 19 points and pulled down a game-high eight rebounds to lead Utah State to a 85-73 win over Weber State Wednesday night.
Wesley scored the first five points of the game as Utah State burst out to a 14-2 lead. The Aggies held a double-digit lead throughout the rest of the first half and led 46-29 at halftime.
Tai Wesley was named MVP of the Tournament, joining teammates Jared Quayle and Pooh Williams on the All-Tournament team.
[Tai is the son of Hiagi and Susan Wesley, who now live in Laie, Hawai'i, where Hiagi is a Professor and Director of The Jonathan Napela Center for Hawaiian and Pacific Islands Studies at Brigham Young University–Hawai'i.]
---
From www.fanbase.com (28 December 2009)
Utah State men's basketball player Tai Wesley has been named the Verizon Wireless Western Athletic Conference player of the week it was announced by the league office Monday.
---