From Bruce Tizard Varcoe (27 May 2012)
Rebecca Tavo

While Rotumans across the globe were celebrating Rotuma Day on the 12th and 13th May, Australian Women's Rugby Sevens Captain Rebecca Tavo spent her weekend playing in the IRB Women's Sevens Challenge Cup in London (played alongside the men's competition at the 2012 Marriott London Sevens).

Day 1: Australia topped pool C with victories over China (27-5), France (29-0) and USA (22-5).

Day 2: Australia started well in their semi-final match against the Netherlands, with a superb early try scored by Rebecca. The Dutch, who were the surprise team of the tournament, fought back winning 14-12. Australia had to settle for 4th place after their defeat from Canada (14-19).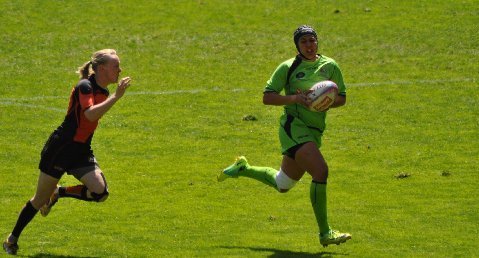 Rebecca on her way to scoring the first try vs the Netherlands
Photo by Bruce Tizard-Varcoe
Day 2 highlights video; see 2nd match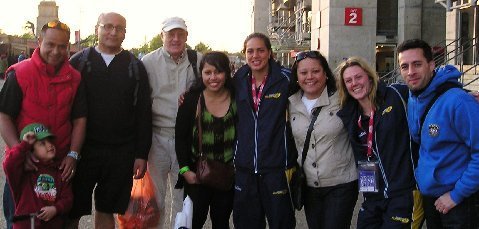 Rebecca Tavo and teammate Sharni Williams with members of the Rotuman community
Photo by Bruce Tizard-Varcoe
Amsterdam

A week later, Rebecca and the Australian team played in the Amsterdam Sevens and finished in 3rd place.

Day 1: as in London, Australia again topped their pool, with victories over Scotland (30-0), Germany (19-5) and the Netherlands (14-5).

Australia v Scotland video
Rebecca scored a hat trick of tries.

Australia v Netherlands video
Rebecca scored both tries for Australia

Australia v USA video
Day 2: Australia lost 14-17 to USA in the Cup quarter-finals and then went on to the Plate semi-final
defeating Spain 19-7. They advanced to the third-fourth playoff, defeating host side the Netherlands 18-14.
Videos on You Tube of Rebecca Tavo
1) http://www.youtube.com/watch?v=-H_odpK1WPA
2) http://www.youtube.com/watch?v=P5WRWZRJpN8


---