From Freddy Kafoa in the Solomon Islands (28 August 2012)
More Rotuman Girls Play Rugby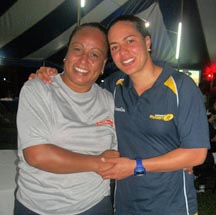 Betty Kafoa & Rebecca Tavo
My wife Betty, who represented the Solomon Islands in rugby 7s, came back from the Oceania World Cup qualifying 7s tournament in Fiji that took place at the beginning of August.

This was the first time in Solomon Islands history to send a women's rugby team to this event. Women's rugby is still in a development stage here, having just started 3years ago. There is a lot of interest in women's rugby, especially since the Federation decided to send a team to compete this year.

Betty met up with Rebecca Tavo, who plays for the World Champion Team Australia, and Marissa Iroa, who plays for the Cook Islands team..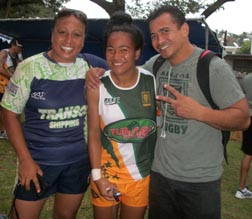 Betty & Marissa with Marissa's dad (Andrew) who represented Cook Islands in the men's 7s National team
It is a learning experience for the Solomon Island girls to rubshoulders with our Pacific Islands girls who have extensive competitive experience. The Solomon Islands Rugby Federation is looking forward to developing more young women who are interested in rugby.

World Cup Champion captain Rebecca Tavo is so proud and happy to know that there are other Rotuman girls who play this physical contact sport.

The Oceania Tournament was won by New Zealand after beating the Australians in the final.
The Solomon Islands Women's Rugby Team
---