From Fiji Broadcasting Corporation (13 December 2012)
Swim records set
by Eleina McDonald
Three new Fiji Open swimming records have been set at the FINA World Swimming Championships in Istandbul, Turkey.

Fiji's Caroline Puamau shaved off point one five of the second in the 100m backstroke.

Tieri Erasito took off point four seconds off the old 200m butterfly while Paul Elaisa took off point two seconds off Carl Probert's 100m butterfly event.

The trio are currently competing in the World Championship under the guidance of coach and former swim queen, Sharon Smith.

They will compete again tomorrow – Elaisa will feature in the 50m freestyle while Erasito and Puamau will race in three events.

All three swimmers have managed to secure personal bests.
---
From Fiji Times Online (14 December 2012)
Swimming records fall

by Rashneel Kumar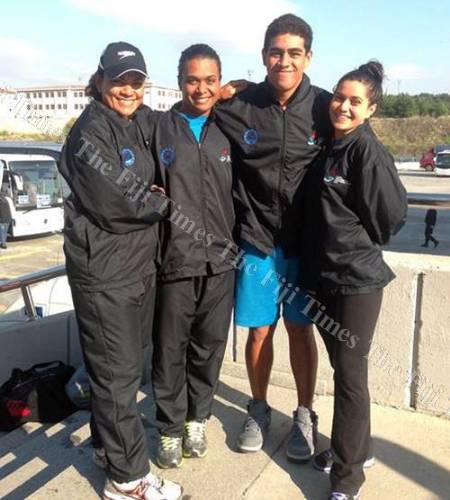 The Fiji swim team of Sharon Pickering, Caroline Puamau, Paul Elaisa and Tieri Erasito in Istanbul.
Picture: Supplied
THE Fiji swimming team to the 11th Short Course FINA World Swimming Championships in Turkey has made a good start to their campaign.
The national team of Caroline Pickering Puamau, Tieri Erasito and Paul Elaisa did well in their preliminary rounds but failed to qualify for the finals. However, they broke national records with some fantastic new times at the Sinan Erdem Dome in Istanbul.
Puamau, who competed in the women's 100 metres backstroke event, recorded a time of 1 minute 4.47seconds to shatter her old national record of 1.05.98sec.
She was placed 44th in her event.
Erasito competed in the women's 200m butterfly event and broke the national record of 2.22.33sec (held by her) to set a new record of 2.26.23sec.
Elaisa set a national record in the 200m freestyle after stopping the watch at 1.57.54sec. The old time was 2.00.49sec.
However, Elaisa was bit unlucky in the 100m butterfly after he narrowly missed the national record of 58.08sec. He clocked 58.50sec.
The championship which ends this weekend features 958 swimmers from 162 nations.
---