From Fiji Times Online (18 February 2016)
Surfer 'Kim's little sister' calls Fiji home
Fiji Surfing Association
Fiji. The name alone can cause any surfer to have visions of perfect weather, friendly smiles and some of the most perfect waves on earth.
For 23 year old Hannah Bennett, it's home.
"We travelled a lot growing up, but Rotuma was always my family's home base. It's where my dad built our first family home, and where my deep love of Fiji began. Regardless of where I live, Fiji is always home."
Bennett, the youngest of three children, says her older sisters' love of the sport of surfing, is what started her love of the sport.
"My older sisters are 100 per cent responsible for who I am.
"Good and bad," she adds with a laugh.
"Believe it or not when I was little I hated surfing, and they would drag me out in all sorts of conditions. Eventually, I learned to love it.
"When that moment came, all I wanted to do was surf like my older sister Kim. She left me some big shoes to fill, and even to this day, most places that I paddle out to, people refer to me as 'Kim's little sister'."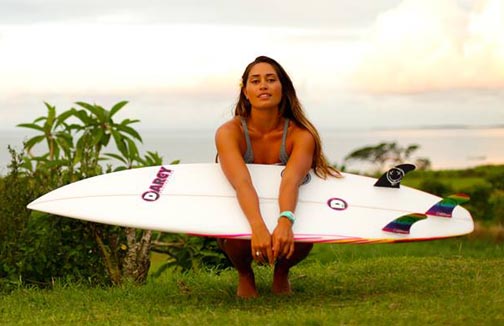 Hannah Bennett
The sport of competitive surfing in Fiji, has been around for a while, however, it is still a relatively small, closely knit community governed by the Fiji Surfing Association. The association is responsible for holding local and regional tournaments such as the widely successful Melanesian Cup, of which, Bennett was the women champion for two years in a row. This exposure allowed her to be recognised by the World Qualifying Tour, ( WQS ).
WQS is the second highest level of surfing in the world, there are usually around ten events located at different breaks around the world. From Hawaii, to Japan, the locations change every year. The goal of the WQS is to test surfers in all conditions, in order to allow them to qualify for the highest level of the world tour which consists of 10-14 of the worlds best men and women surfers. Bennett is the first Fijian to qualify at this level.
When asked if she feels any pressure as the first Fijian to represent us among the best the world has to offer in the sport, she says, "Yes, and No. I think if you are a professional athlete and you say no, you are lying. However since I am the first surfer from Fiji to reach this level, I have the luxury of setting my own standard. The expectation of my success is solely up to me."
Bennett says local support has been extremely encouraging. Some local sponsors include, Fiji Surf Company, and Namotu Island Resort who sponsor many of her competition equipment, and gear, Fiji Surfing Association, Fiji National Sports Commission, who handle all of her funding, since coming on board last year, and Fiji Airways and Tourism Fiji who have been supportive since the beginning of her career.
When asked what advice she has for younger surfers looking to follow in her footsteps, Bennett says: "My advice is to never get rid of the surf bug.
"No matter how old or young you are, always froth on surfing for no one can truly master all elements of it.
"Remind yourself that there is always something new to learn in surfing and never give up on that."
To keep up with Bennett while she is on tour, the public is urged to follow her on her Instagram page @_fiji_girl_
---