From Fijivillage.com (29 April 2016)
Rotuma High School's lone athlete wins gold

By Vijay Narayan

Rotuma High School's lone athlete at the 2016 Coca-Cola Games has won a gold medal.
Rafaelle Pau'u won gold in the Sub-Junior boys Long Jump.
He has dedicated the win to the students of Rotuma High School.
Pau'u is aiming to win gold in the 400 metres final this evening.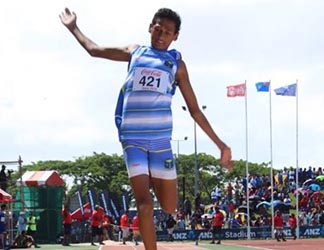 Rafaelle Pau'u with the gold winning jump
---
From Fiji Times Online (30 April 2016)
First gold for Rotuma

by Vuniwaqa Bola-Bari

Rafaelle Pau'u yesterday won the first gold medal for Rotuma High School.
This was possible when he competed in the sub-junior boys' long jump landing on 5.50m mark in his last attempt.
The lone athlete from the Island said it was his first Fiji finals but not his first time at the ANZ Stadium as he also took part in last year's Chow Games winning the silver medal in the 400 metres race.
"I won Silver in last year's Chow Games, so I was a bit confident to win gold today," Pau'u said.
He is the son of Chris Pau'u whose record in the 100m was broken by now Pacific Sprint king Banuve Tabakaucoro.
"This is history for Rotuma, because this is our first gold medal in the game. There was nothing different in my training, I did the same as all the others but I made sure I prayed hard and trained hard too."
Still in Year 9 at Rotuma High School, Pau'u is aiming to continue until he reaches Year 12 and to migrate to his father's former school — Marist Brothers High School.
"I came in as the underdog, being the only athlete from Rotuma, and I will remain with Rotuma until I reach Form 6 then I will want to come to Marist."
Meanwhile Suva Grammar's Josefa Cama came second to Pau'u with a jump of 5.48metres and MBHS' Jone Balemaihawaii was third with a jump of 5.37metres.
Lone ranger ... Rotuma High School's Rafaelle Pau'u bites his gold medal after winning the sub junior boys long jump event at the ANZ Stadium yesterday.
Picture: Atu Rasea
---