From Fiji Times Online (7 July 2016)
Note: Winston Hill is Part Rotuman. His mother is Susau Kamoe Hill and his grandparents are Petero and Pasepa Kamoe.
Living a dream

by Maciu Malo

A DREAM that was born one year ago has materialised for Suva-based boxer Winston Hill after he was selected as a late inclusion to Team Fiji's 2016 Rio Olympic Games campaign.

It has been 18 years since a boxer represented Fiji at the Olympic Games.

Hill is only the sixth athlete to have ever represented Fiji in boxing after Apete Temo (1988), Josateki Basalusalu (1988), Isimeli Lesivakarua (1988), Thomas Schuster (1956) and Hector Hatch (1956).

Hill was still trying to come to terms with the news during an interview in Suva yesterday.

For someone who first took up the sport some four years ago after surfing through the web and to become one of the few Fijians to qualify for the Olympic Games is beyond imagination.

The 22-year-old said he was surprised when he first received the news because everything happened in a short span of time.

"I am very surprised at the way events are unfolding," said Hill.

"I started boxing four years ago, training at home after picking up some basic training from the internet.

"Later, I tried out some of these skills in the boxing tournaments held at the Rabuka Gym and from there on, I asked heavyweight boxer Napoleon Taumoepeau to train me."

Team Fiji chef de mission Cathy Wong said Team Fiji was overwhelmed with the inclusion of boxing.

"This is a huge achievement for the Boxing Association and we congratulate Winston for his selection," Wong said.

Hill said his Olympic dream started after winning a silver medal at last year's Pacific Games in Papua New Guinea.

But his dream nearly shattered after failing to qualify during a qualification championship in China last year until receiving the good news yesterday.

Like a true sportsmanship, he never lost hope in the sport and continued his normal training every single day.
He reaped the fruit of his hard work when he was selected to proudly fly the Fiji flag at the world's pinnacle sporting event.

"After the Pacific Games, we were asked to submit a game for the Olympics and Team Boxing submitted my name and that is where the dream of participating at the Olympics began," Hill said.

"All hopes were high for the Olympic Games until the qualifiers in China, preparation went well for the competition and we were lucky enough to be invited given the strict selection criteria of participating at the Olympics.

"But due to selection criteria, we were offered the wild card entry."

Hill said he wanted to make the family and the country proud at the Olympics.

He said he has being doing the hard yards at training and would give his best to prove his selection.

"I always have passion for a fighting sport being able to participate and share equal rights with another person with the sport.

"I am sure to make the country proud on and off the field I will do our best to make the country proud."
Hill will be fighting in the 69kg welterweight division.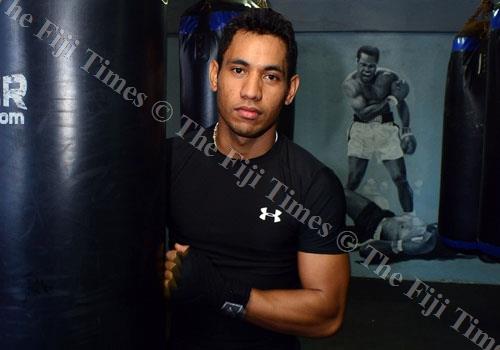 Amateur boxer Winston Hill at the Suva Boxing and Fitness Gym
Picture: Jona Konataci
---