From Fiji Times Online (24 September 2016)
Fiji born excels in NZ

By Sudesh Kisun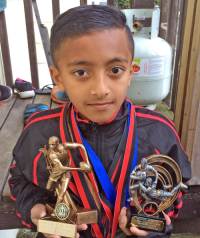 Nolan Joseph of Auckland with his spoils. Picture: Supplied
AT the age of nine, Auckland student Nolan Joseph has more medals and trophies than many sportsmen would dream of.
The Otahuhu Rugby Football Club (ORFC) member has been a trailblazer ever since enrolling with the club as a first-five in 2013.
But what sets Nolan apart from other rugby players at the club is that he's the only player of Indian and Rotuman heritage. Nolan was born in Lautoka, Fiji in March 2007; his father Noel Joseph, of Lautoka is a Fijian of Indian decent and mum Fautaurau is from Rotuma.
Noel Joseph, who moved with his family to Auckland in 2008, says Nolan's interest in rugby prompted them to enrol him at ORFC.
And Joseph says it's a decision he does not regret.
Nolan started off playing for the ORFC Tigers; bagging the player of the year award in the first year. The awards kept coming.
In 2014, he joined the ORFC Vikings under-8 side, scooping the best and fairest player of the year award.
In 2015, he played for the All Stars under-8 team, taking out the player of the year, top try scorer and overall Little Blokes player of the year awards. He also had a stint with the Countries Manukau touch under-9 team and got the most improved player award.
Now, Nolan plays for under-9 Dragons touch team and has already bagged the most improved player award. Joseph says Nolan is dedicated to rugby and disciplined with his training routine.
"He trains everyday; we don't have to force him to go training.
Nolan says he loves rugby but stays focussed on his studies too; the Year 4 student at Saint Josephs Otahuhu takes out time for his homework.
"After school, I come home, have a bite and do my homework before heading off to training," he says.
The Josephs are proud of Nolan's achievements.
Noel Joseph recalls taking him to a rugby trial and Nolan being asked if he was there to play soccer.
"Once he showed his skills on the field, the same people came over and asked us about our race and background; they were fascinated to learn he was Indian and played rugby so well."
Nolan's coach Tommy Roache describes him as a great team player.
"Given the fact that Nolan comes from Indian and Rotuman and from Fiji background is really unique at our club," Roache says.
"Nolan's really proud of his culture and gels really well with boys. Being one of the leaders in my team —— due to his hard working attitude and commitment to the team —— he gained a lot respect from his team mates. "
Roache believes Nolan has great potential.
"The sky is the limit when it comes to Nolan's rugby playing potential," Roache says.
Nolan says he wants to be an All Black and then pursue a career as an army officer.
He follows the All Blacks closely; Highlanders first five-eighth Lima Sopoaga is his favourite player.
Coach Roache says Nolan is an awesome rugby player and only time will tell if achieves his goal of playing for the All Blacks.
"But as a coach I see a lot of things he is doing right now to making his dream come true."
---