From multiple sources (30 April 2020)
Matthew Leo signs to play with the Philadelpia Eagles
Matthew Leo (the son of Michael and Margaret Leo, who live in Adelaide, South Australia) has signed a contract to play for the Philadelphia Eagles of the National Football League (NFL) in the United States. Michael is from Lau, Ituʻtiʻu.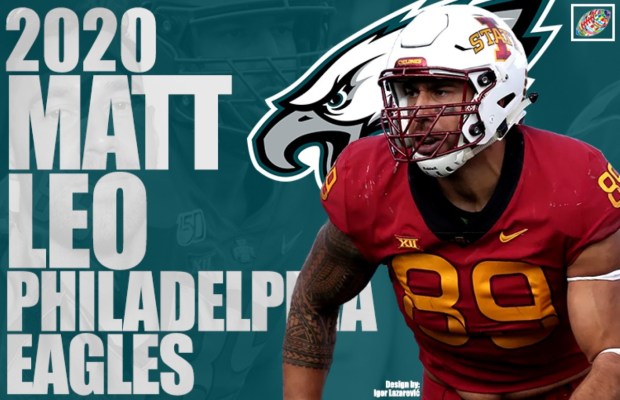 Matthew, at 6'-7", 275-pounds, is part of the NFL International Player Pathway Program (IPP), which aims to provide international athletes the opportunity to compete at the NFL level, improve their skills, and ultimately earn a spot on an NFL roster. The program is an important part of the NFL's overall strategy to grow internationally because it provides international athletes with the opportunity to play in the league, thereby increasing the pool of talent.
Matthew was working as an apprentice plumber back home in Adelaide before coming to the United States. Five years ago, he made a decision. He knew that crawling around installing commercial plumbing was not his lot in life. He aspired to play in the NFL, despite the fact that he had never played American football in his life. He had played rugby in Australia so he knew all about physical sports. He tracked down Paul Manera, one of the top football coaches in Australia, and a former player and coach with the University of Hawaii. Under Manera's tutelage, Matthew developed his physical skills to the point that he was accepted at Arizona Western Community College, where he was instructed to arrive the following week for practice. So he became a 23-year-old college freshman athlete having never played any American football before.
In 2016, Matthew was a starting defensive end for a unit that ranked No. 2 in the ranks of US community college in terms of yards and points allowed. When Arizona Western played in the national championship game, Matthew was noticed. Schools began offering scholarships and he selected Iowa State University.
After a medical redshirt season in 2017, Leo made his Iowa State debut at the age of 26. Over his last two seasons he posted 33 tackles, 11.5 tackles for loss, and three sacks. He was a first-team Academic All-Big 12 selection, earning a 4.0 grade point average in his final semester while completing his bachelor's degree in liberal studies.

As he told the Eagles shortly after being accepted to the team:
"Words can never describe the feeling. Honestly, the feeling that comes to mind is tears. I could never thank the people enough that helped me get here as well. I was just one person that was willing to persevere and chase for this dream. Never wanted to accept 'no' or 'not good enough.'"
---