From Fiji Times (27 April 2023)
Coke Games 2023 | 'For my bro' – Savea competing in honour of late sibling
By Elena Vucukula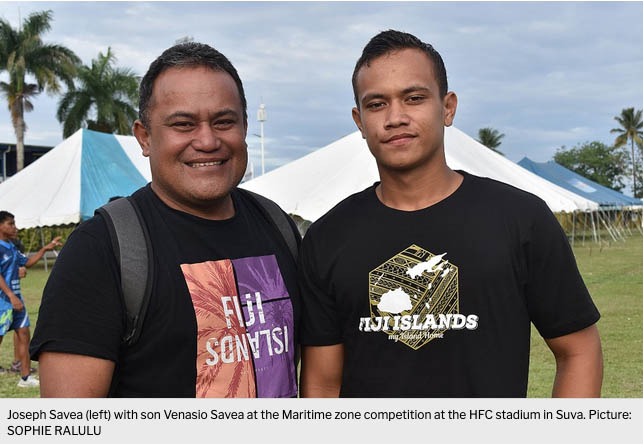 Venasio Savea is coming to the Coca-Cola Games this weekend with two things on his mind.
First and foremost, the discus thrower and shot putter wants to honour the memory of his younger brother, Daniel, who was the lone gold medalist for Rotuma High School at last year's games.
Daniel, unfortunately, passed away during a swimming mishap.
Venasio said he had been putting in the hard yards to compete at this year's athletics meet.
His second goal is to win gold and dedicate his win to his younger brother.
The Year 12 Rotuma High School athlete won gold in the intermediate discuss and shot-put events at the HFC Bank Stadium during the Maritime Zone in Suva on Tuesday.
"Preparing for the Maritime Zone and Coca-Cola Games was hard because we don't have the resources," he said.
"We use sandbags and the grog pounder (tabili) to help build our muscles. This is my first time competing in the Coca-Cola Games and if I win, I will dedicate my win to my brother. I was close to my brother and my aim is to win gold at the games for him."
Venasio said he was supposed to travel with Daniel last year to the Coca-Cola Games but didn't make it.
"Training without him was hard. Remembering that he also went through the same training routine, I sometimes would cry."
The eldest of three siblings said he used to get up at 4am to train alongside his father.
"My dad would wake me up and, in the afternoon, I train after school.
"We left Rotuma High School on Wednesday and last week we were training with the field athletes of Marist Brothers High School, and it was a good learning experience."
Venasio said although a lot of his time was dedicated to training, he ensured his schoolwork was kept up to date.
"My teachers and friends in school also help me with notes that I have missed, and we discuss them together.
"Winning a gold is not an easy task, hard work is important and dedicating it towards someone motivates me in achieving that ultimate goal."
His father Joseph Savea said when Daniel passed away, he made it a priority to train Venasio.
"I think my son (Daniel) showed the school last year that we can win something," he said.
"I feel happy that my vision as a father and a schoolteacher I think we have achieved that today.
"And come the Coca-Cola Games, the athletes competing this year will do better."
---