From Pacific Magazine (24 April 2008 )
LäjeRotuma Initiative Gives Back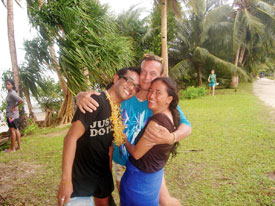 LäjeRotuma founders Alfred Ralifo (left) and Monifa Fiu (right), with artist and LRI supporter Craig Marlow
As a speck surrounded by the Pacific Ocean--Rotuma--465 kilometers north of the Fiji group -- is an island particularly vulnerable to the effects of climate change.
However, because of its remoteness, the Polynesian island, which has been politically part of Fiji since 1881, rarely gets any attention despite its breathtaking beaches and azure waters.
The 2007 census put the number of Rotumans on the island at 2,810, while the vast majority of Rotumans live in Fiji and overseas. It is this Rotuman diaspora that in recent years responded to the need for environmental education on their home island as the subtle but unmistakable changes attributed to development and a warming ocean take hold.
In 2002, a small group of young Rotuman professionals set up the LäjeRotuma Initiative, a voluntary environmental initiative.
"It was a very simple idea," says Monifa Fiu, a marine scientist who works at WWF in Suva and one of the five founders of LRI.
Teamed up with Fiu were Rupeni Mario, an energy expert; Manueli Fiu, a diver; Sidney Malo, a marine scientist; and Alfred Ralifo, a teacher and artist. With the funds they could scrape together, the young bloods behind LäjeRotuma took environmental awareness back to their roots.
Six years later LäjeRotuma's simple idea of "environmental outreach" has morphed into a much bigger vision.
With the blessing of the chiefs who make up the Council of Rotuma, an integral part of LäjeRotuma (läje means coral) work now involves school children in the four primary schools and one high school on the island. Fiu says "targeting an impressionable group" is critical to ensuring the message of environmental preservation is effective.
LRI events take place at least four times are year on the island, a taxing job given the notoriously difficult transportation and communication challenges faced by Rotuma.
"When we started out it was a hobby. But after six years it's becoming more challenging. All of us have other jobs. I'm overwhelmed but what drives me is the passion," says Fiu.
-Ricardo Morris
---