From Stuff.Co.NZ (6 October 2021)
Fijian, Rotuman communities in three-day vaccination drive in Mangere
The Mangere Centre Park vaccination drive poster features the Olympic champion Fiji sevens team.
Auckland's Fijian and Rotuman communities are hosting a three-day vaccination campaign as part of Fiji Language Week activities which started on October 3.
Centre Park in Mangere will be the venue for the vaccination drive, which starts tomorrow, October 7, and ends October 9, from 8.30am to 4pm.
Organisers hope to immunise close to 1000 people and close the gap for the 3000 unvaccinated Fijian population.
One of the organisers, Nacanieli Yalimaiwai, said the community-focused approach would help to vaccinate and protect families against the infectious Delta variant.
"It brings the vaccines directly to our communities and helps overcome barriers for the most vulnerable and hard to reach in our communities."
Yalimaiwai said while the target population were Fijians, Rotumans and Indo Fijians, vaccinations would be open to everyone including students from the secondary schools and surrounding neighbourhoods.
A Rotuman community spokesperson Fesaitu Solomone said the majority of its community lived in Auckland and working collaboratively with the Fiji community was a great opportunity to vaccinate people.
"Huge opportunity to collectively participate, partner and support our Fiji communities to vaccinate our people, and also a magnificent way to celebrate and end the Fiji Language Week – Vosa Vakaviti in Aotearoa."
The Fono chief executive Tevita Funaki, who will be the lead clinical provider, said the objective was to turn Centre Park into a Fijian village and provide a festive atmosphere.
"It is important to mobilise the Fijian communities to come forward and get their vaccinations."
The Fono is providing logistical support with the help of the Ministry for Health, NHRCC, Pasifika Futures, Auckland Council and Pacific Media Network.
Auckland clinician Dr Api Talemaitoga, affiliate investigator Dr Ofa Dewes, and Pacific director of nursing Abel Smith will manage a team of Fijian nurses and vaccinators over the three days.
Buses will be available to transport people to and from Mangere Centre Park.
Yalimaiwai said all throughout the three days volunteers would deliver information about the vaccines and reminders around mandatory mask wearing, social distancing and hygiene protocols.
"This is a vaccination drive by Fijians for Fijians, by Pacific for Pacific – this is what our community needs and deserves."
See also +Undoctored: Fiji aiming to be "Champions" both on and off the field - Fiji/Rotuma Vaccination Drive
---
From Fiji Broadcasting Corporation (18 August 2021)
Rotuma on par with its vaccination campaign

By Josaia Nanuqa
Over 1,000 people on Rotuma Island have been flocking to vaccination centres to receive their first dose of the AstraZeneca vaccine.
District Officer, Vatia Vasuca says they've reached 83 percent of the targeted population who have received their first dose since the starting of the vaccination campaign last week.
With the ongoing vaccination campaign on Rotuma island, the District Officer is optimistic that the 100 first dose target will be achieved by Friday.
He adds health officials are now visiting communities targeting the elderly who are unable to turn up into vaccination venues.

"Carry out this awareness especially to our elderly with the commission of this vaccine."
Health Minister, Dr Ifereimi Waqainabete has commended the response from villagers, which indicates their level of cooperation and understanding about COVID-19.

"I'm really grateful that our fellow Fijians in Rotuma have taken the initiative to ensure that we abide by the Public Health safe measures and also in terms of ensuring that we push on with the vaccination."
Meanwhile, Vasuca says strict protocols have also been imposed while off-loading cargos at the Oinafa wharf, to ensure none of the islanders come into contact with any crew members.

"We've mobilized with the Chiefs and the Lotu and come up with a plan how best we can maintain that status for Rotuma as COVID free."
All essentials transferred from the cargo ship needs to be tightly sealed as thorough fumigation will be carried out before distribution.
Download Covid-19 guidelines in Rotuman from Fiji's Ministry of Health
---
From Radio New Zealand (15 August 2021)
Rotuma halts shipping services
Meanwhile, chiefs on Rotuma have agreed to halt any cargo or freight services to the island from Suva following the rise in Covid cases on the main islands.
Rotuma is about 650 kilometres north of Suva with fewer than 2000 residents.
Goundar Shipping Limited, which manages the inter-island services to Rotuma, said the islanders had opted to protect themselves from any possible threat of Covid-19.
Goundar said they would resume services to Rotuma once given the green light by the council of chiefs.
The islanders have resorted to current supplies and fresh harvests for the next couple of weeks.
---
From Fiji Broadcasting Corporation (27 July 2021)
Vaccine delivered to Rotuma and Lakeba
By Apenisa Waqairadovu
People in Rotuma will soon be administered their first dose of the AstraZeneca vaccine.
This morning the Ministry of Health delivered the vaccine to the island.
The Ministry of Health has acknowledged support from the Advanced Aviation Training and Sea Mercy for making the delivery possible.
The vaccine has also reached Lakeba in the Lau Group and people have started taking their doses.
---
From the Ministry of Health & Medical Services - Fiji (27 July 2021)
Noa'ia Rotuma!
We are excited to successfully deliver the COVID-19 vaccine to the island of Rotuma this morning.
Strict measures are taken to ensure this is achieved thanks to the support from Wayne and Deborah Hintom from the Advanced Aviation Training and Sea Mercy.
---
From Fiji Broadcasting Corporation (26 July 2021)
Rotuma decides not to receive any freight services
Chiefs on Rotuma have agreed to halt any cargo or freight services to the island from Suva for the time being.
This has been confirmed by Goundar Shipping Service owner George Goundar who says the people on the island want to protect themselves from any possible threat of COVID-19.
Goundar says they are ready to service Rotuma once the green light is given but that depends entirely on people on the island.
This means the distant island will rely on what they have in stock and fresh harvests for the next couple of weeks.
He says they have just a few crew members who are still isolating onboard one vessel while the majority of those who were positive have been cleared by health authorities.
---
From ITaukei Trust Fund Board - TTFB (14 July 2021)
MEDIA RELEASE

ROTUMA ISLAND GETS ORGANIC ACCREDITATION
The iTaukei Trust Fund Board (TTFB) and the Council of Rotuma, are delighted to advise on the certification of 'Organic Rotuma' as approved by the Pacific Ethical Trade Community (POETcom), the governing body of organics movement within the Pacific Community (SPC). The initiative was achieved with the partnership of the SPC, Matanataki consultancy and the Ministry of Agriculture.

BACKGROUND
In 2011, the Council of Rotuma endorsed a proposal to ban the use of chemicals on farms which would actually come into effect by the first quarter of the following year. This timeframe allowed farmers to use up any leftover stock. By 2012, farmers were encouraged to stop the use of chemical herbicides.

In August last year, TTFB visited Rotuma to carry out a scoping exercise and needs assessment. This was carried out in consultation and collaboration with the Council of Rotuma and relevant government departments. Outcomes from this visit helped develop the groundwork for organic certification of the island of Rotuma.

This year in March, a team comprising of TTFB, SPC and Matanataki visited Rotuma to conduct a three-day workshop training on Participant Guarantee System (PGS) for organic certification. The TTFB funded training was facilitated by the Ministry of Agriculture, Ministry of Rural & Maritime Development and National Disaster Management and conducted by SPC's Land Resources Division-POETcom technical team and consulting company, Matanataki.

The workshop training was attended by forty participants including chiefs and growers, both women and youths, from Rotuma's seven districts. The objective of the workshop was to start certifying land lots around the island and gradually expand allowing development stakeholders to properly manage waste in order to comply with the organic standards towards PGS certification for the whole island.
In addition to the workshop training, the technical practitioners also went out to the districts to engage in talanoa sessions with potential organic farmers.

ORGANIC CERTIFICATION
Key towards this certification process was to conduct the PGS which covered all facets of the organic process. The visiting SPC technical team, in their ground survey, brought back to Viti Levu a total of eleven files on farms for evaluation. Of this, nine farms satisfied the standards for organic land certification and thus, were eligible for organic registration. This then led to the certification of the brand "ORGANIC ROTUMA".

In their findings, Rotuma has the potential to engage in organic pollinated seed production for business. The intention is that interested organic certified farmers be trained on the standard procedures for organic pollinated seed production and to get the facilities for seed processing particularly a high value packing and storage system to allow producers to have a fixed contract with government on organic pollinated seed supply. Technical support services from the Ministry of Agriculture or SPC and Biosecurity Authority of Fiji can be mobilised through proper channels to engage and ensure that this potential is realised.

Following the March trip, business consulting firm, Matanataki in their report recommended that there some very good natural products already thriving on the island that can be sustainably managed as an organic export product. These include Rotuma kava, coconuts and organic seedlings.

TTFB is working with Matanataki to put together a proposal on open pollination (for the seedlings), which is not yet available in Fiji and coconut production. Coconuts are in abundance on the island and they can be produced and sustained commercially.

TTFB is now in discussions with the Ministry of Agriculture to pilot a project on the establishment of an organic seedlings' nursey for commercial purposes. This is an exciting next chapter for Rotuma's organic journey, because of the expected wide range benefits the seedlings production will bring to the people of Rotuma. Furthermore, seedlings could also assist in food security rehabilitation efforts after natural disasters.

TTFB CEO Aisake Taito says "this is an exciting new journey for Rotuma and for the Board. We are happy to be part of this key milestone for Rotuma's organic accreditation. Having an accredited organic status will only boost Rotuma's economic and environmental sustainability efforts".

Representatives of the Council of Rotuma have credited this initiative as an excellent and noble recognition of the efforts of many individuals and organisations particularly TTFB, SPC, POETcom, Matanataki and of course, the people of Rotuma. 'Rotuma Organic' will be the island's benchmark for the niche market where excellence in performance becomes norm, a symbol that all Rotumans can proudly cherish and take responsible ownership for.

WAY FORWARD
More discussions with the Council of Rotuma are expected in the areas of identifying the organic product to start off with including possible healthy value adding products. Some suggested products include turmeric, virgin coconut oil and organic seeds. Additionally, to look into upskilling and capacity building people identified to lead these various projects and of course key to any successful commercial venture is securing sustainable export markets
for these identified organic products. See Fiji Times article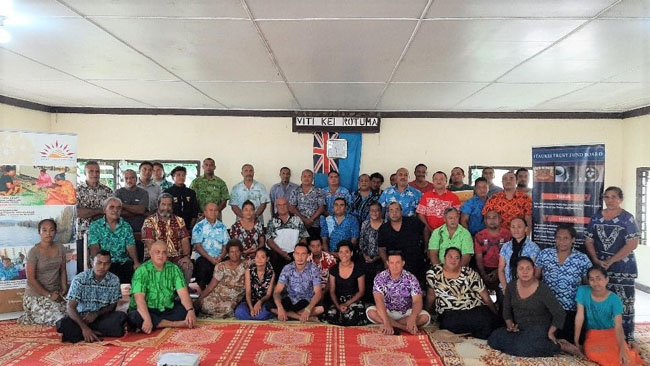 ---