From Radio New Zealand (8 May 2021)
Rotumans celebrate language and culture 'together' amid Covid-19
By Christine Rovoi
Aotearoa's Rotuman community is excited to celebrate their language and culture together this year.
Last year's Rotuman language week, New Zealand's third, was forced online because of the Covid-19 pandemic.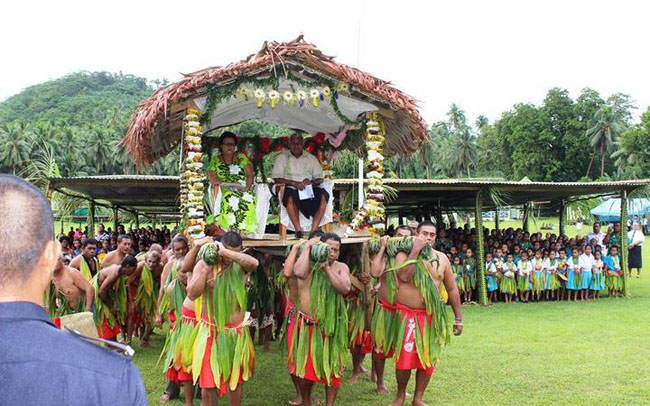 Fiji's Prime Minister Frank Bainimarama and his wife Mary are welcomed to Rotuma in a traditional ceremony during Rotuma Day celebrations. Photo: Facebook/Fiji govt
This year's theme for Gasav Ne Fäeag Rotuạm Ta - Rotuman Language Week - is Tutur häk ne mȧür lelei - the four pillars of life and wellbeing:
Mȧür Fakʻata (spiritual - a place of solace that gives meaning to life).
Mȧür Fakforo (physical - living life in all its fullness).
ʻOs Aʻhäe (psychological - steers our presence and place in life).
Hạikạinagaga (social - our connection with people).
According to Auckland-based Rotuman language tutor, Fesaitu Solomone, the traditional Rī Fak Rotuam is a thatched shelter or house which needs four strong pillars to hold the entire house together, "just like the four pillars for our wellbeing".
She said the theme also acknowledged and celebrated the strength and resilience of New Zealand's Pacific communities during the Covid-19 pandemic.
Activities and events will be held through Aotearoa to showcase the richness of the Rotuman language, culture and traditions, Solomone said.
Minister for Pacific Peoples Aupito William Sio will launch tomorrow's event during an Exclusive Viewing of Rotuman Collections at the Auckland Museum.
This would be followed by the launch of the Rotuman Language Week Theme Song, Solomone said.
She also said the Gasav Ne Fäeag Rotuạm Ta events would be streamed live on the NZ Rotuman Language Week Facebook page.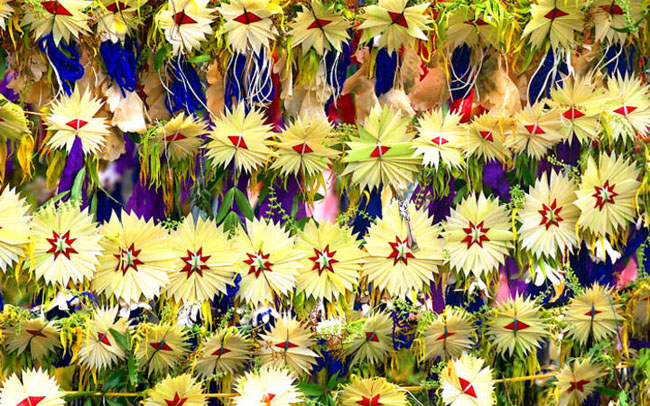 Rotuman fui or lei. Photo: Supplied
This year is extra special: Mario
Like a number of Pacific tongues, Rotuman was a language earmarked as under threat by the United Nations agency, UNESCO.
The head of the Auckland Rotuman Fellowship Group, Rachael Mario, says this is a concern.
It's been a challenge to keep the language alive, Mario said.
"Language is what makes us who we are and is part of our culture and identity. It is our duty to preserve this invaluable taonga.
"We invite all Kiwis to come and join us and celebrate being Rotuman. We pay tribute to our elders and leaders, who have, for the last 35 years, continued to celebrate our culture in New Zealand.
"We thank them for keeping our customs and traditions relevant," she said.
Mario said a showcase at the Auckland War Memorial Museum next weekend is among the highlights for the week-long celebrations.
The event is being hosted the New Zealand Rotuman Community Centre in the South Auckland suburb, Papatoetoe.
Mario said tomorrow also marked a special day for Rotumans.
"It's Mother's Day so we are going to have a pink ribbon breakfast which is open to everyone to come and join us.
"We'll provide the breakfast with the Kingsland Methodist congregation so it's a combined effort with the Mt Albert United Church.
"As well the Showcase, the programme will include Sunday's Closing Church Service with the Ate Fak Rotuma (a traditional feast served on banana leaves, with people seated on the floor)."
Mario said following the Harmimia ʻAmah ʻNe Haihanisiga or pink-ribbon breakfast, there will be singing of the popular Atumotu Helava.
There will also be a combined church service led by by the mothers.
The theme focuses on the wellbeing of our nation and communities, Mario said.
Rotuman children are learning to dance the traditional tautoga. Photo: Christine Rovoi
Rotumans go on air
A new radio programme has been launched to mark Rotuman Language Week.
From midnight to 2am on Saturdays the new weekly show, aired on Pacific Media Network's 531pi station in Auckland, will feature narratives from the diaspora in Aotearoa.
Solomone, one of the show's hosts, said they intend to include Rotumans from around the world to participate in the programme.
"Basically, it's a bilingual programme so our target audience we're looking at all our community members and those who are interested in the Rotuman language.
"These include those who are not fluent, who can't speak the language properly or to converse in full Rotuman.
"And for those who are wanting to learn the language. So this programme is an opportunity for them to be a part of it."
Solomone said people could share their views on issues that mattered to them including "things happening around the world in terms of our Rotuman community globally".
"It is a programme for our people, mainly for us in Aotearoa."
But it's going to expand to everyone internationally, she said.
Also see Kiwi Rotuma's challenge to keep endangered Pacific Island language alive
Facts about Rotuma
Rotuma is located almost 650 kilometres northwest of Fiji's capital Suva.
The island is a Fijian dependency but closer to Tuvalu than to Suva and, while it's influenced by Melanesian Fiji, Rotuma's Polynesian culture is closer to that of Tonga and Samoa.
About 2000 people live on the island with 10,000 on mainland Fiji and thousands more, like me, around the world.
This year, on 13 May, also marks 140 years since Rotuman chiefs ceded the island to the United Kingdom.
Rotuman Language Week ends on Saturday 15 May.
Rotuma is located about 650 kilometres northwest of Fiji's capital Suva.
---
From Fiji Sun (21 April 2021)
Market Area Planned For Rotuma: Kumar

The minister said they were not only looking at setting up the market near the Government Stations but also near the Rotuma Airport.

by Sampras Anand
There is good news for people living in Rotuma because there are plans to develop a market on the island.
This was revealed by the Minister for Local Government Premila Kumar during her visit to Labasa in the past week.
Ms Kumar said during one of her personal trips to the island, she met with the Rotuma Council representative, who mentioned the need for a market.
She said the visit allowed her to get clarification from the council in terms of the logistics that was needed to set up the market.
"We need to know where the land is and who owns the land," Ms Kumar said.
"Once this is complete, then we could facilitate a simple market in Rotuma."
The minister said they were not only looking at setting up the market near the Government Stations but also near the Rotuma Airport.
Ms Kumar said this would provide the best opportunity for the islanders to sell their produce and traditional desserts to travellers.
She said this would help stir up the economic activity on the island.
"We have already got the approval for the Government Station where we would put up the market," she said.
For the airport area, the discussions were now ongoing with the Fiji Airports Limited.
"For the ministry, getting the clearance was vital because we had to conform to their requirements," Ms Kumar added.
---
From The Pacific Community (15 April 2021)
Fiji President lauds organic certification effort
In recognition of Fiji's Rotuma island seeking organic status, Fiji's President, His Excellency Major General (Retired) Jioji Konrote hosted island representatives, the Fiji Ministry of Agriculture, organic certification partners and staff from the Pacific Community's (SPC) Land Resources Division (LRD) at his official residence on April 12, 2021.

The organic effort in Rotuma is the result of a collaboration between the Itaukei Trust Fund Board, the Ministry of Agriculture, business and marketing consultant Matanataki and LRD. An expert team from LRD trained by the POETCom organic initiative in Participatory Guarantee System (PGS) organic certification visited Rotuma in late March to assess interest from the Island Council in starting the certification process.

During the Presidential event, His Excellency Konrote was briefed on an upcoming visit to Rotuma to discuss options for organic certification and business opportunities. While offering his support, His Excellency affirmed that the organic work starting in Rotuma is something for which he has been waiting a very long time. The initiative complements other campaigns, such as the Fiji Home Gardening Campaign, which President Konrote is currently spearheading.

The visit also included a brief on the Fiji National Organic Policy that has been finalised by the Fiji Organic Task Force of the Ministry of Agriculture for submission to cabinet.

Organic farming in Fiji provides a host of benefits, including healthier food, protection of biodiversity, climate change mitigation and adaptation, food and nutritional security, prevention of land degradation, and creation of employment opportunities. Going organic also empowers communities that are often neglected, such as women and youth.

Eleven farmers on Rotuma have expressed their interest in receiving organic certification. The LRD staff responsible for ensuring organic certification are all from the island. Fluency in island language, culture and traditions will help the team better understand the dynamics of certification, as well as successes and failures.

LRD's certification guidance will cover organic pest management, soil improvement, open pollinated seed production, biosecurity and agronomy – all in collaboration with Ministry of Agriculture staff in Rotuma. The Ministry of Agriculture Land Use section has also visited Rotuma and that team's recommendations will be integrated into the certification process.

An agreement to establish the Participatory Guarantee System has been made, and SPC is looking to May 2021 for signing the PGS licensing agreement during Rotuma Day celebrations on the island.


Division
Land Resources Division (LRD)
Countries
Fiji
---