The
Rotuma Coral Reef Conservation Project (Page 1 of 4)
1. INTRODUCTION
The Rotuma Coral Reef Conservation Project (RCRCP) II was carried out on the island of Rotuma from 19 May to 11 June 2004 with the assistance of two Rotuma Island divers and a volunteer PADI (Professional Association of Dive Instructors) Divemaster. Two LajeRotuma Initiative (LRI) core members accompanied the team.
The first RCRCP focused on providing a biological baseline survey of Rotuma's coral reefs using Reef Check surveys to assess reef health from 2-10 October 2003.
The four divers all of whom are of Rotuman descent, traveled from Suva to Rotuma on 15 May by the Ba Provincial Council vessel, Cagi-Mai-Ba and joined a PADI Open Water Diver (volunteer) based on Rotuma.
The six new sites are located on the northern and eastern side of Rotuma thus exposed to heavy swells and 15-20 knot easterly winds therefore only shallow diving was achieved.
Like the old sites, all 6 new sites have no rivers spilling sediment onto the reef. They are all close to settlements, with Juju being the most polluted in terms of household refuse and other non-biodegradable materials.
The objective RCRCP II was to cover as many more sites and areas which were not covered on the first expedition to produce a non-biased assessment of Rotuma's reefs.
A comparison of both sets of data (2003 and 2004) and also of the five re-surveyed reefs was made to assess human and natural impacts to Rotuma's reef ecosystem.
2. METHODOLOGY
The RCRCP II employed ReefCheck/Global Coral Reef Monitoring Network (GCRMN) methodology as used in the pilot study to determine substrate cover, fish and invertebrate counts to reflect reef health and promote conservation and environmental awareness especially for the people of Rotuma.
This method involves the use of a 100m transect line at a shallow (3-5m) and deep (7-12m) station collectively called a site. On RCRCP I, a steel peg was used to mark the beginning and end of a transect line. Each transect is divided into 4 segments of 20m each separated by 5m intervals. Within these segments four types of data were gathered: site description, substrate, fish and invertebrate.
A GPS (Global Positioning System) handheld unit was used to relocate steel pegs used to mark the beginning of each transect.
Unlike the first expedition, LRI was only capable of using a team of 5 divers (1 standby diver) on this trip. On this occasion, compared to the first expedition dive plan, LRI had to be spread out dives to be conservative. Therefore, only 1 or a maximum of 2 sites were covered in a day.
3. RESULTS
Six new sites (Oinafa, Paptea, Husi'a, Kalvaka, Juju, and Haga) and five old sites (Ut'utu, Lopta, Lulu Bay, Malhaha, and Roupure) were resurveyed. Haga, Juju, and Kalvaka were carefully chosen for site suitability. Steep drop-offs, overhangs, strong surge and areas of low visibility were avoided.
Between both dive expeditions a total of 17 sites were surveyed and this data was used to determine Rotuma's reef status. Data analysis was based on the overall 17 and five re-surveyed sites.
| | |
| --- | --- |
| | |
| Plate 1. Coral Massive (CM) | Plate 2. Pavona sp. |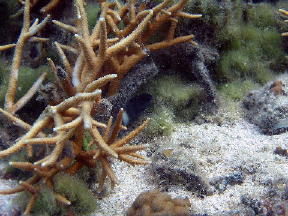 Plate 3. Acropora
Branching (ACB) with Turf Algae (TA)
3.1 SUBSTRATE
Table 1. Mean substrate cover for re-surveyed reefs

of Ut'utu, Lopta, Lulu Bay, Malhaha, and Roupure.

Deep

Shallow

2003

2004

2003

2004

Live coral

32.63

26.38

30.00

30.21

Soft coral

0.00

0.75

0.00

0.42

Sponges

0.25

1.38

0.63

0.21

Zoanthids

1.25

1.50

0.00

1.04

Algae

42.75

46.50

34.38

  38.33

Rock

1.75

2.75

6.67

2.92

Silt

0.00

0.00

0.00

Softl0.00

Rubble

1.38

0.88

2.08

4.58

Sand

3.75

3.25

2.50

5.83

Dead Coral

0.75

4.88

0.00

3.75

DC w/Algae

13.13

10.25

21.67

11.67

Other

0.88

0.38

0.63

0.00
There was lesser live coral cover in deeper waters both for re-surveyed (-6.25%) sites and overall sites (-1.75%).

A marked increase in dead coral in shallow (+3.75%) and deep waters (+4.13%) for re-surveyed sites.
Fig 2. Graph comparing overall DEEP substrate cover for October 2003 and May 2004