From Fijitimes Online (30 April 2009)
Rotuma to get poverty combat training

THE People of Rotuma will be trained to implement government-funded programmes in order to combat poverty.
Gagaj Maraf Solomoni of the Noatau District invited the Poverty Monitoring Unit in the Ministry of Social Welfare and Poverty Monitoring to conduct a poverty combat
stakeholders meeting in Rotuma.
On Tuesday, Garaj Solomoni was a participant at the Eastern Division Poverty Combat Stakeholders Engagement at the Ministry of Provincial Development Regional Conference Room in Suva.
He requested that the Poverty Monitoring Unit conduct a similar stakeholders meeting in Rotuma during the observation of Rotuma Day celebrations from May 9-16.
The Ministry of Social Welfare, Women and Poverty Monitoring has, over the past two months, held consultations among stakeholders at national, divisional level to set the platform for a stocktake and assessment of all government funded programmes aimed at poverty combat.
Media liaison officer Fred Elbourne said the meeting targeted government agencies who were implementing the programmes, aimed at combating poverty.
"The meetings are to consult with the major players, especially government agencies that have been over the past decade, and still are implementers of government-funded programmes aimed at poverty combat," Elbourne said.
These consultations, Elbourne said, were geared towards setting in motion the dialogue and participation needed to harness the diligent pursuit of Pillar 8 of the People's Charter for Change, Peace and Progress 'Reducing Poverty to a negligible level by 2015.
---
From Fijitimes Online (30 April 2009)
Dentist for island
ROTUMA should have a new dentist by next month, said Ministry of Health spokesman Iliesa Tora. He confirmed there was no dental officer on the island for the past three months and that cases were being dealt with by a medical officer at Rotuma's health centre. He said the situation should improve as a dental officer was now ready to go to the island in May.
---
From John Bennett in Suva (30 April 2009)
As of tonight (30 April) Air Fiji has ceased operations as a commercial airline. They need a $3.5 million windfall just to cover present debts plus working capital if they are to resume operations. This may be the end of Air Fiji and we're hoping Pacific Sun will commence flights to Rotuma sometime in the future.
Iloilovatu did not leave for Rotuma today as anticipated. It will probably leave around 9 May when dignitaries will attend Rotuma Day. This may even change with Air Fiji no longer flying. Some Government officials intending to go by boat and return by air can no longer do this. Most cannot take a week off work to go up and back by boat, especially the interim prime minister.
---
From Radio Fiji (26 April 2009)
Rotuma exports to commence
The Fiji Quarantine and Inspection Services says export of root crop from the island of Rotuma to Tuvalu is expected to begin by August this year.
Director, Hiagi Foraete said that preparations for the event are well under way and infrastructure and a Quarantine officer should be in Rotuma by June before the commencement of the export venture.
He says an entourage from Tuvalu is expected to be in Rotuma in June to inspect and audit the facilities before trade commences.
Foraete says they are in the process of completing construction of the packing shed at the wharf and an officer will be based in Rotuma.
He says the officer will board and inspect both the ship and the commodities before it leaves Rotuma, and he will be assisted also by the Agriculture Extension Officers on the island.
Mr Foraete explained that negotiations were carried out with the Tuvalu Quarantine Authority, with the assistance of the Secretariat of the Pacific Community and important issues relating to Biosecurity were discussed and resolved.
Tuvalu has indicated to Rotuma they would like to have dalo, cassava and Kumala as the first commodities for this trade.
The plant planned for the wharf at Oinafa in Rotuma is a smaller version of the Nadi Plant and will cost the Fiji Quarantine and Inspection Services close to $200,000.
---
From John Bennett in Rotuma (21 April 2009)
Iloilovatu will be parting lines with Oinafa Wharf in about 30 minutes. We're off to Cikobia then onto Suva arriving there Thursday.
The Island is flush with fuel and provisions now and we're backloading a ship full of dalo, coconuts, pigs, etc.
The barge Vatulawa is also here with building material for the food treatment plant quarantine, etc. This will be set up near the old Council Garage at Ahau.
---
From Fijitimes Online (17 April 2009)
State promises regular ship service
By Harold Koi

THE people of Rotuma have been assured the monthly supply of retail food and fuel from Suva will be on time in future.
Works and Transport Ministry spokeswoman Sainiana Waqainabete has apologised to the islanders for the two-month delay in the shipment.
The problem has been attributed to the delay in loading of supplies on government vessels.
Ms Waqainabete confirmed the MV Vatulawa and MV Iloilovatu would leave Suva for Rotuma this evening.
Two shopowners on the island said their fuel supply had run out and canned foodstuff and groceries were in short supply.
Kan's Store owner Maki Tomasi, the biggest supplier of kerosene and gas on the island, said the problems started a month ago.
"But people don't complain much because there is a lot of food like cassava, rourou, dalo, fish and topoi (dumpling) on the island," she said.
"Business is slack but we can still survive."
Mrs Tomasi operates a shop in Hapmak which is normally stocked every month. Apart from groceries, she also expects 60 drums of assorted fuel and 80 gas cylinders from Suva.
Katafono Sereti shop owner Betty Inia said all the shops on the island faced a shortage of retail food supplies.
Ms Inia agreed with Mrs Tomasi but did not blame the delay in shipment.
"We can't blame the ship for the delay; if we want frequent shipment we should buy our own vessel," she said.
"It's time for Rotuma to buy its own vessel with the assistance of the Fiji Government."
---
From Fiji Daily Post (16 April 2009)
Rotuma hospital rations on their way

RATIONS and supplies for the Rotuma Hospital are being sent to the far flung island on the government vessel, Iloilovatu.
Minstry of Health spokesman, Iliesa Tora confirmed yesterday that supplies for the island's hospital have been sent on the government vessel, which was to have left Suva last night for the island.
"We have sent supplies and rations for the hospital on the government vessel," Tora said.
"There was a problem because no boat was servicing the island for some time. The rations sent should take care of the situation in Rotuma."
Tora added that the hospital's drug supply should last three months while other rations should normally cover a month to six weeks.
---
From Fijitimes Online (10 April 2009)
The power of prayer
By Mereseini Marau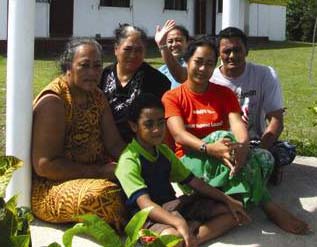 Rachael Pene, Mere Kava, Maria Mateo, Taukeu Mateo, Kerlyn Mario and Loraine Mateo
IN a tradition spanning 22 years, members of a Rotuman family have made an annual pilgrimage to the Khrist Jyoti Ashram in Nadi to pray and fast for 40 days and 40 nights.
Every year from Ash Wednesday to the Easter weekend, the Mario family camp at the Khrist Jyoti Ashram, which means Christ the Light Ashram. The pilgrimage began in 1987 when Samuela Mario, the then head of the Rotuma Charistmatic Group in Suva, felt there were not enough prayers in the world.
His oldest son, Pene, said the group was invited to make the pilgrimage and began a regime of prayers for nine hours a day for 40 days.
"My parents and aunties would go from Ash Wednesday and stay until Easter when the rest of the family would meet up with them," Pene said.
"It has been a family tradition since right after the 1987 coup to pray for the country, the world and the conversion of sinners."
Pene, who has 10 brothers and a sister, said they all share the conviction held by their late father about the power of prayer.
Although both parents are now deceased, the family continues to uphold the tradition.
"My mother's sisters are up there now," Pene said. When a Fiji Times team went to the Ashram on Tuesday, Pene's aunts Rachael Pene and Mere Kava were there.
"When we come here, we don't worry about our financial needs. We believe that God is providing," they said. Ms Pene said they had been moved by the power of the prayers of their late sister Emily and her husband, and wanted to continue them.
The sisters, Pene's two grandchildren and two other relatives from Rotuma were part of this year's pilgrimage.
They also visit the Ashram at other times of the year, including the first nine days of the new year, they said. Pene has vowed to continue with the mission of prayer his parents began.
---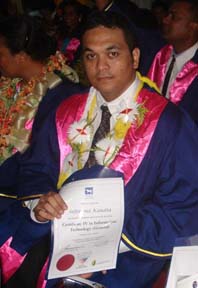 Seforana with Certificate
From Fiji (8 April 2009)
Seforana Kauata, son of Alfred Kauata from Malhaha and Kiji from Itu'muta, graduated with a Certificate IV in Information Technology from New Zealand Pacific Training Centre-NZPTC on 20 February 2009.
He will continue his studies at the Centre in pursuit of a Diploma in Information Technology.
Seforana would like to thank God and his parents for their continued support and blessings.
---
From Sefo Avaiki in Nanaimo, B.C., Canada (5 April 2009)
The Hugag'esea Rotuman Club of British Columbia, Canada, performed a tautoga at the re-opening fo the Museum of Anthropology at the University of British Columbia on 11 March 2009. Three thousand happy people packed the Museum for its re-opening after a six month closure for expansion.
As reported in an article by Lenora A. Hayman in the Fraser Valley/Lower Mainland Newspaper Edition:
A rousing, live performance was given by the Pacific Island Hugagesea Rotuman Club. Native Fijians are Melanesian but the natives of the 43 sq.kilometre island of Rotuma, a Fijian dependency, 465 kilometres north of Fiji are Polynesian. Rotuma's original inhabitants were from the Polynesian islands of Samoa, followed by those from Tonga and Kiribati (Gilbert Islands). Their Rotuman traditional Tautonga dance and war chants have some similarity to the action songs and haka of the New Zealand Maori. Few tourists visit Rotuma so we were privileged to witness the show.
| | |
| --- | --- |
| Konusi Aisake, Frank Samuela, David Halaliku, and Aisake Titifanua | Fanifau Avaiki & Sandra Aisake |
Photos by Lenora Hayman
---
From Alan and Jan in Honolulu (5 April 2009)
We are deeply saddened to learn of the passing of Elisapeti Inia in Suva on 3 April at the age of 84. Born Elizabeth Kafonika to Karisto Vai and Kijiana Surkafa Fiu from the village of Savlei, she was the 5th of 6 children. She attended Davuilevu Teacher's Training Institution, where her future husband, Wilson Inia was teaching. After two years at the Teacher's Training Institution, she enrolled at Lelean Memorial School in Davuilevu and passed the Senior Cambridge Exam in 1945. She was the first Rotuman woman to become a certified teacher.
She and Wilson were married in Savlei on March 18, 1947, on her 22nd birthday. After five years teaching at Richmond Methodist High School in Kadavu, Elisapeti and Wilson returned to Rotuma in 1953 where they started Rotuma High School in Malhaha. In 1968, Wilson retired as Headmaster of Rotuma High School and they moved to Savlei, Elizabeth's home village, where she lived until the end of 2008 when illness necessitated a move to Suva where she was looked after by her children and grandchildren.
Elisapeti was active in women's affairs in Rotuma and respresented Rotuma at a number of national and international conferences. She was a lay preacher in the Methodist Church, a justice of the peace, and was generally was recognized as a leading authority on Rotuman language and culture. She developed Rotuman language materials for the schools in Fiji and Rotuma, and authored two books concerning Rotuman culture—Fäeag 'es Fūaga: Rotuman Proverbs and Kato'aga: Rotuman Ceremonies. She was also a co-author of A New Rotuman Dictionary. These are works that will be treasured by future generations of Rotumans as a link to their roots. She also composed many songs and poems in the Rotuman language.
Elisapeti was elected as a representative from the district of Itu'ti'u to the Rotuman Council; she was the only woman ever to have served in that capacity.
Elisapeti has now taken her place among the revered ancestors of the Rotuman people. Her memory will live on as will the heritage that she did so much to preserve and perpetuate. We loved her dearly and will miss her for the rest of our lives.
See Elizabeth Inia: A Special Tribute
Photos from the funeral by Antoine N'Yeurt
---