From Randolph Bentley (28 October 2021)
Fatnefau Tirotuma Fatiaki
Fatnefau on her 70th birthday
Fatnefau Tirotuma Fatiaki was born on the 28th of October 1926 to Dr. Maraf Jone Fatiaki and Akanisi Farpapa'u at Ahau Hospital Rotuma. She is the 6th of 11 siblings and there are only 3 surviving to date including her. She has a brother Kamoe Urvaru Fatiaki aged 87 years who resides in Canada and a brother Jiosefa Pita Fatiaki aged 84 years who lives in Queensland Australia. She's blessed with 6 children, 17 grandchildren, 19 great grandchildren and 14 great great grandchildren. Her hobbies were gardening and fishing. Sports: basketball. Favourite food: fish with cassava, breadfruit, rourou, bele. Fruits: oranges, banana, pawpaw and mangoes.

She attended primary school at Upu Catholic Mission in Motusa Rotuma. She vaguely remembers the year she left Rotuma for further education in Fiji: most probably in 1938 at the age of 12. She was accompanied by her Uncle Merutu (father's brother) to Fiji. It was an exciting journey she often talked about as it was her first trip abroad. She was enrolled at Ballantine Girls School, Muanikau Suva, as a boarder. During the war in 1940, the school made way for an Army Fort and was relocated to Delainavesi. She also attended Matavelo Girls School in Ba. She remembers the names of iTaukei ladies during her time, with the likes of Aloesi  Bulamaibau (her best friend); Iliseva and Tui Levula, who were sisters to Joe Levula, a rugby icon back in the day; Ro Lala Mara, Adi Saiki and Adi Laisa. She met up with Ro Lala Mara many years later at a function held at the Mocambo Hotel Nadi for Prince Charles's visit around 1970. She chatted with Ro Lala about their school days. She often retells the story of how excited she was to shake the prince's hand and answer a few of his questions.

She attended nursing school in Suva before serving for 3 years at the Colonial War Memorial Hospital (CWMH). Treasured among her belongings are three white stripes sewn on a purple strip of material, which was fastened to the sleeve of her nursing uniform. In those days the junior nurses wore purple uniforms with a white head piece. At the time in nursing school, her aunt (father's sister) nurse Emily was also a midwife at the CWMH. Nurse Emily was a recipient of the Queen's Birthday Honours Award, O.B.E.  during her nursing career. Mother's nursing career was cut short by a few months when she decided to wed our father, Alfred Charles Harold Bentley, on the 30th of June 1945, after he returned from serving as a soldier during WWII in the Solomons. She then worked as the housekeeper for Grand Pacific Hotel  Suva in the early 60's before our Dad was transferred to Lautoka in 1962.

Mum also got a transfer to continue working for Cathay Hotel Lautoka, a short term at Saweni  Beach Hotel and Tubakula Beach Bungalows, which were all run by Cathay Hotels Pacific then. Her immediate boss was Mrs Elaine Barrett, a director of the Cathay chain. In the late 60's there was a shortage of nurses at Lautoka Hospital. She volunteered with a few other retired nurses and served a short term at the Lautoka Hospital as a theatre nurse. The early 70's saw both Mum and Dad move offshore to work at Castaway Resort on Qalito Island in the Mamanuca group. They worked for a few years at Castaway, and then Dan Costello offered them jobs at Treasure Island. After a couple of years they were offered jobs on Mana Island Resort, where they dropped anchor till they both retired to Utetea Rotuma. Dad passed away in March 1994 in Suva at the age of 77; then Mum lived with our youngest sister Rita and Francis Leslie till they migrated to New Zealand in 2001. Mum moved to me in Nadi and she has survived this far. She often tells family that she will live to 100, God willing. What great determination!
May God continue to bless you Mother with good health. Thank you Mother for all that you have done. With much love from the entire family.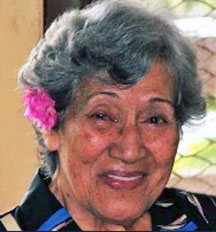 Fanifau on her 85th birthday
---