This page is a guide to changes in the website by category and date, which enables visitors quickly to locate postings that have been made since their last visit.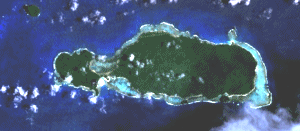 Rotuma from NASA Satellite
17 November, Australian family seeking friendly Rotuman host family for part-Rotuman daughter
1 December, Rotuma graduates encouraged to pursue higher education
28 November, Australian brand sourcing ingredients from Rotuma
28 November, MV Cagivou Replaces Brianna For Rotuma Trip
26 November, Aviation Journey
25 November, Rotumans celebrate Pepjei Day
18 November, Rotuman lass looks forward to fashion show
5 November, Jioji Konrote sworn-in for a second term as President
2 November, Lusiana Tausia shares her love about Rotuma
1 November, Fiji Airports Delivers Major Infrastructure Development For Rotuma
14 November, Video clips showing varying aspects of life on Rotuma in 1990 have been uploaded to YouTube. A list of them, with links to the YouTube versions are on the video clips page.

---